This shop has been compensated by Collective Bias, Inc. and its advertiser. All opinions are mine alone. #LaundryBliss #CollectiveBias #shop #cbias
Looking for 3 Steps to Fresh Smelling Laundry with Purex Laundry Detergent? Keep reading.
Ok, so can I air some dirty laundry? I started using a DIY Laundry detergent. GASP! Well that's not really dirty laundry but let me tell you, my clean laundry still smells dirty.
My husband is very picky about that. Me, as long as it's clean, no visible stains, etc., I'm good.
Laundry is a HUGE chore. Wouldn't you agree? There are 6 of us in this family (including 2 very messy boys!) so I feel like I'm always doing laundry. So really, if I run it through the washer and dryer, it's clean. I'm done.
Apparently that's not good enough. Our clothes still smell like "washing machine." That's what my husband has been saying anyway.
My solution?
Purex Detergent and Purex Crystals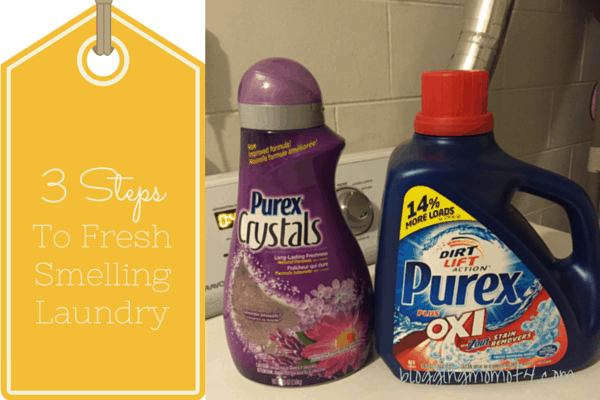 Enough is enough of "washing machine" smelling clothes.
After we got back from vacation, I had a lot of laundry to catch up on. So before I started, I made a quick run to Target to grab Purex Laundry Detergent and Purex Crystals. Purex was always my go to brand before I switched to DIY Laundry Soap so I went back to my trusted brand. Purex is a great detergent and always a better value than other brands. I also picked up some Purex Crystals because they make for even better smelling laundry.
Having fresh smelling laundry (and thus a happy husband) is truly my #LaundryBliss! You too can have that laundry bliss in as little as 3 steps!
3 Steps to Fresh Smelling Laundry
1. Head to your local Target and pick up Purex Detergent and Purex Crystals. (OR even better, order it online at Target.com and pick up in store. Easy!)
2. Add both to your washing machine.
3. Pull from your dryer and inhale.
Ahhh…you smell that?
Can you smell that? Ahh it's fresh clean laundry. That's my #LaundryBliss #CollectiveBias #shop #cbias
Yep, that right there is fresh smelling laundry. My laundry bliss!