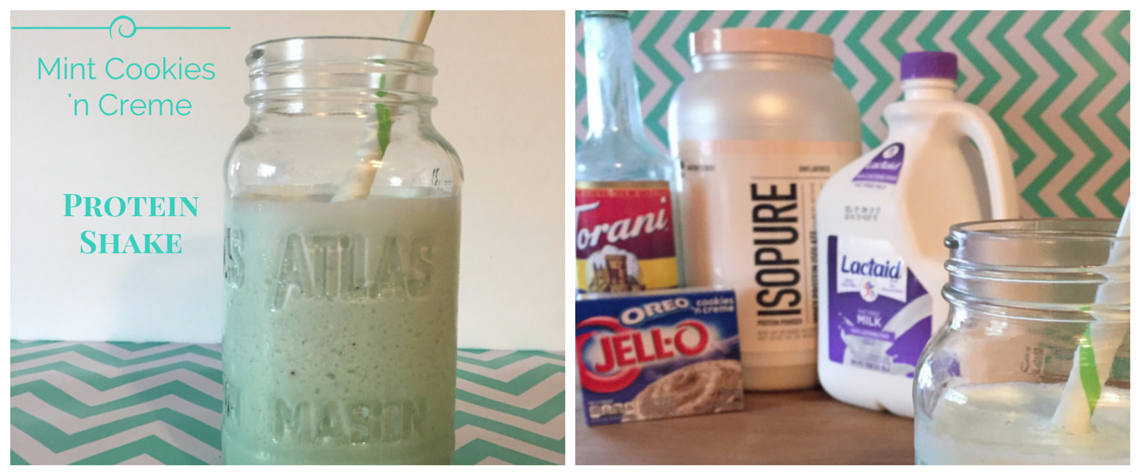 I have been having trouble getting in enough protein and calories lately. Being able to use protein powder to help with that has been great. I've started making different flavored protein shakes. They are very easy to make and you can make a ton of different flavors.
This one is my Mint Cookies 'n Creme Protein Shake. If you love McDonald's Mint shakes, you'll love this. You can make it as thin or thick as you want and as minty as you want.
I use Lactaid milk but you can use regular milk, almond, coconut, soy, etc. I also use ISOPURE for my protein powder but again you can use whatever protein powder you like. I like ISOPURE unflavored because it mixes well with a lot of different foods hot or cold.
This would be best with a sugar free 'mint' syrup and sugar free jello but I didn't have the sugar free versions on hand. And sadly, I haven't found a sugar free Cookies 'n Creme pudding mix. You can definitely substitute products here and still get a similar Mint Cookies 'n Creme Protein Shake.
Mint Cookies 'n Creme Protein Shake
Ingredients
1 oz Mint Syrup (Creme de Menthe or sugar free version)
1 scoop protein powder
1 tsp Jell-O Cookies 'n Creme dry pudding mix
6-8 oz Milk
6-8 oz Ice (more or less to reach desired consistency)
Directions
Combine all ingredients into a blender, mix and serve.
Enjoy!
What is your favorite protein shake? My husband's is Orange Dreamsicle. I'll see if I can get that recipe on the blog next.
Related Articles:
Read all about my weight loss journey.
Find other great recipes.
Pinterest Friendly
Are you on Pinterest? Here's a Pinnable image.
(You can find me on Pinterest @bloggingmomof4)