Who's a Costco shopper? I have an awesome deal to share with you! Read below to see the special offer on Premier Protein!
 
Save on Premier Protein at Costco
My husband and I drink protein shakes daily and we like to keep them on hand for after work-outs. The easy grab-and-go packaging from Premier Protein helps us stay on track and makes it easy to take with us.
I'm guessing you're asking what they actually taste like right? They are GOOD! I've tried a lot of different protein shakes and Premier Protein is one of the good ones. Plus, I love that it has a whopping 30g of protein in each drink. When you're trying to recover from a work-out or just get in extra protein, this is an awesome option!
Premier Protein has a deal at Costco through August 23rd! I picked up this deal on Sunday and I'll be heading back to get some more before the promotion ends. This limited time deal saved us $5 on an 18-pack, so we purchased it for $18.99 after discount. For convenience and taste, I think we made a good choice with Premier Protein.
Premier Protein's shakes are packed with 30g of healthy protein for only 160 calories and 1g of sugar.
Which flavor did we choose? Chocolate, of course! Premier Protein also comes in Vanilla and Strawberry flavors.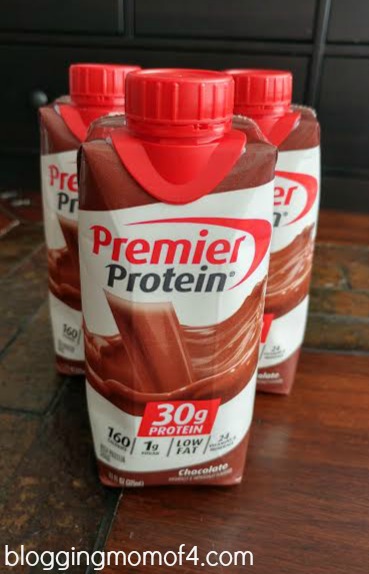 The shakes were easy to locate in Costco, on the same aisle as the vitamins. We loaded a box in our shopping cart and then went on to get some fresh produce. There are so many options at Costco and sometimes I just find myself wandering the aisles and discovering new items! What's your favorite thing to buy at Costco?
Pick up your 18-pack at Costco by August 23rd so you don't miss out on this big savings!