Ready for some summer learning that your kids may just enjoy? Check out this Finding Dory themed Pixar in a Box lesson. #FindingDoryEvent

When I was last in Los Angeles for the Finding Dory Event, we got to learn a bit about Pixar in a Box. Being a home educator, I was so excited to hear and see more about it.
What is Pixar in a Box?
A collaboration between Pixar Animation Studios and Khan Academy. Sponsored by Disney. All the lessons are FREE and they are designed for all age groups, even different levels of learning. From art to math, science to animation there are so many great lessons.
About Khan Academy
Khan Academy offers practice exercises, instructional videos, and a personalized learning dashboard that empower learners to study at their own pace in and outside of the classroom. We tackle math, science, computer programming, history, art history, economics, and more. Our math missions guide learners from kindergarten to calculus using state-of-the-art, adaptive technology that identifies strengths and learning gaps.
This year, my oldest will be a senior in high school and my second oldest a freshman in high school. The Twins will be in 7th grade. Wow, where does the time go!! Anyway, with the older two, we're definitely starting to try to figure out next steps and career paths. Their ideas of possible careers may change over time but they definitely each have different skill sets and different paths that I can see them going down.
I love to be able to foster their creativity and give them options as to what they can do in the future, different careers they can choose. It's so awesome to actually be able to give them an inside look at what being an animator would look like.
My Abbie is so very creative. Of course, I think this is right up her alley. But then Dylan is very analytical so he's sitting right next to me while I'm doing a lesson and explaining to me all the scientific meanings as to why this does this and that does that. It's so fun to see them both coming into their own.
Abbie has already sat for hours doing the different Pixar in a Box lessons. She's loving it! The best part is that it doesn't feel like school to her. She's learning and excited about it! Love it!
The newest lesson is geared towards Finding Dory. I find it so fascinating to see animated water. They make it so realistic!! How do they do that? Well take a look:
So much fun! I played around with it a bit. I can't say that I'm all that good and figuring this 'stuff' out but Dylan was enjoying helping me and giving me tips along the way. 😉
I took a couple screen shots. The lesson is completely interactive so you can modify and change the different variables. First, I played with size, gravity, elasticity and flow rate of my 'water.'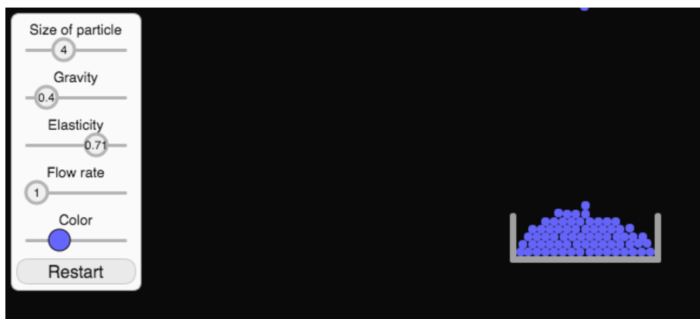 Then I played with number of particles, viscosity and collision softness to try to create a splash.
Learning about how they create water and make it look so realistic was so fun! I can't say that I'm a pro at it yet but it was sure fun learning the basics.
Head over and check it out! I'm guessing your kids are going to love it!