Disclosure: I was provided a personalized back to school lunchbox from I See Me! for review purposes only. All opinions are my own.
Back to School is here!! Our schools actually start next week but I know a lot of schools have already started. Do you have kids in school this year? Are they back already or not yet started?
Either way, you can send your child to school with this awesome personalized back to school lunchbox. I love it! And more importantly, my daughter loves it.
Not only is this adorable lunchbox personalized with my daughter's name but it also has a spot on the lid where you can leave your child notes. Just another way to send some love to them during the school day.
Personalized Back to School Lunchbox
Our personalized lunch boxes make your child feel special every day! Each one of our lunch boxes features your child's name on multiple sides. On the inside lid, there's a chalkboard where you can write a personalized note to your child each morning!

Safe for storing food, our lunch boxes are made of tin and contain no lead. They're also great for storing toys and other treasures!

Hand wash with dish soap. Do not put into dishwasher. Chalk is not included.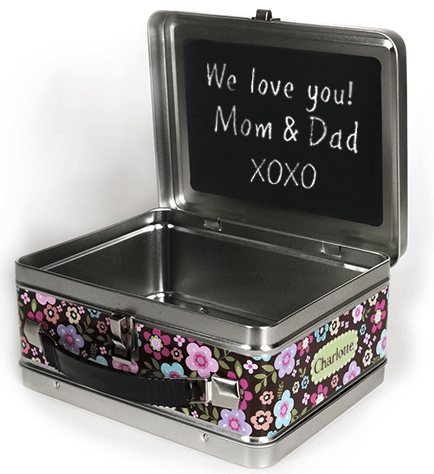 As homeschoolers, I don't actually 'send off' my kids to school each day so they don't have the traditional use for a back to school lunchbox. But my kids LOVE having containers to store their most prized possessions. Having this personalized with a chalk board inside, makes it much more fun and special.
I See Me! has some great personalized gifts: Lunchboxes, Puzzles, Coloring Books, Placemats, Stickers, Growth Charts. Something for everyone and every occasion! So next time you're in need of a unique gift or maybe a personalized gift, make sure to check them out.
Facebook: https://www.facebook.com/ISeeMeBooks
Twitter: http://twitter.com/#!/ISeeMe_Maia @ISeeMe_Maia
Pinterest: http://pinterest.com/iseemebooks/ #iseemebooks
**Feel free to share some of our 'pinnable' images from our "Pins you'll love section" onto your Pinterest boards!
Instagram: http://instagram.com/iseeme_maia
Google+ : https://plus.google.com/+ISMBooks/about
Email promos/discounts and updates: http://www.iseeme.com/preference-center.html