Permalink vs Title
Permalink vs Title – When you're writing a blog post, there is so much to think about. So many things that go into your post. I wish it was just as easy as sitting down, typing a bunch of words, hitting publish and that's that.
Not really that easy. Well I suppose it could be that easy but I'd imagine that not many people would actually see that bunch of wonderful words you just wrote.
So as we go through our blogging career we learn tricks of the trade. If we're experts in the field of SEO, then we'd already know these things but for those of us that learn as we go, well…we learn as we go. By the way, I never claim to be an expert in any one field. I'm "just a blogger" who has been learning and picking up some great skills throughout my time blogging. Wishing that I would  have known then what I know now, I want to just share any knowledge as I go.
My next Blogger Tip is about Permalink vs Title. I've almost been blogging 2 years and I just discovered this fun difference a month or so ago. 😉 So don't feel bad if you're just learning.
In the image below, the first red arrow is pointing to the title. The second red arrow is pointing to the permalink which is also highlighted, (and is also covered up by my auto watermark..sorry about that) 😉 The permalink will automatically set to whatever you put as your title, however you can edit it and change it to whatever you want.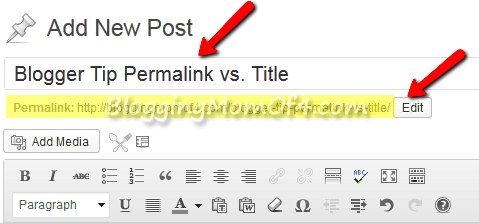 You should watch that your permalink is not too long. A good permalink should be short but also have your keyword(s) in it.
So while I might keep my title to be "Blogger Tip Permalink vs Title," I would edit my permalink to be just "permalink vs title." It would now look like this:
Permalink: https://bloggingmomof4.com/permalink-vs-title/
Now there are other things to consider when you make your title like putting the keyword first. So I should really consider making my title be something like, "Permalink vs. Title Blogger Tip."
Hope this is a great Blogger Tip that you can use!
If you've missed any of our other Blogger Tips, make sure to catch up. 🙂