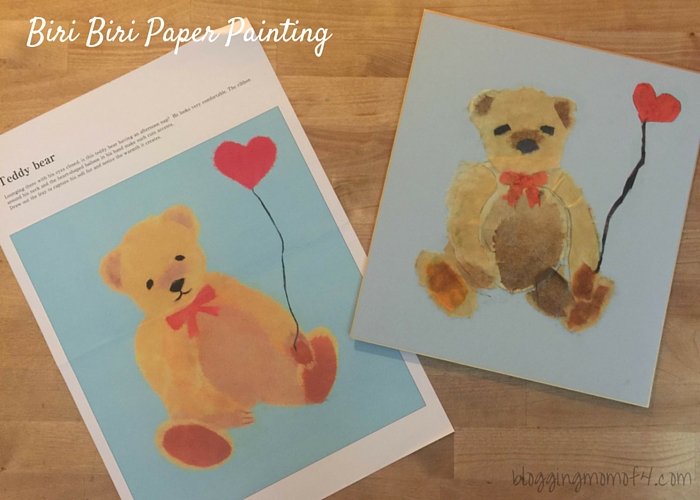 We have been having so much fun with the Biri Biri Paper Painting kits. Have you had a chance to check them out yet? If not, just follow this link, purchase a Biri Biri set and get crafting! You'll have so much fun.
To catch up, our first creation was the Roses and then we did the Cherries. Now we're on to the Biri Biri Paper Painting Teddy Bear kit. This had a lot more layering to the project. My 14 year old daughter did this design all on her own. She really enjoyed it and was happy with the finished design.
As a refresher, you start out by copying the design on to the art board. The art board, in this case, is a 8×11 photo type mat. You layer the pattern with the chalk paper onto the art board. Then trace over the pattern creating your design on the art board. Once your design is set, you start adding the washi paper on top of your traced pattern.
There are a lot of different ways you can tear the washi paper. With each style, you'll get different results. I think it's a great idea to really test out different methods to get the one that you're not only comfortable with but that yields the results you're looking for. There are instructions to help you out but if you need or want additional help, The U-CAN Learning Method provides crafters with access to video tutorials and solutions to common issues that can pop up while creating Biri Biri collages.
Once you have your torn washi paper pieces, you use the glue to adhere them to your art board. Layering the different colors as you go.
You don't always have to follow the design either. You can always feel free to get creative and really make it your own. While doing this paper painting teddy bear, my daughter decided to leave off the mouth. I think she tried it and didn't love the way it looked. So she left it off. I think it's cute! What do you think? How did she do?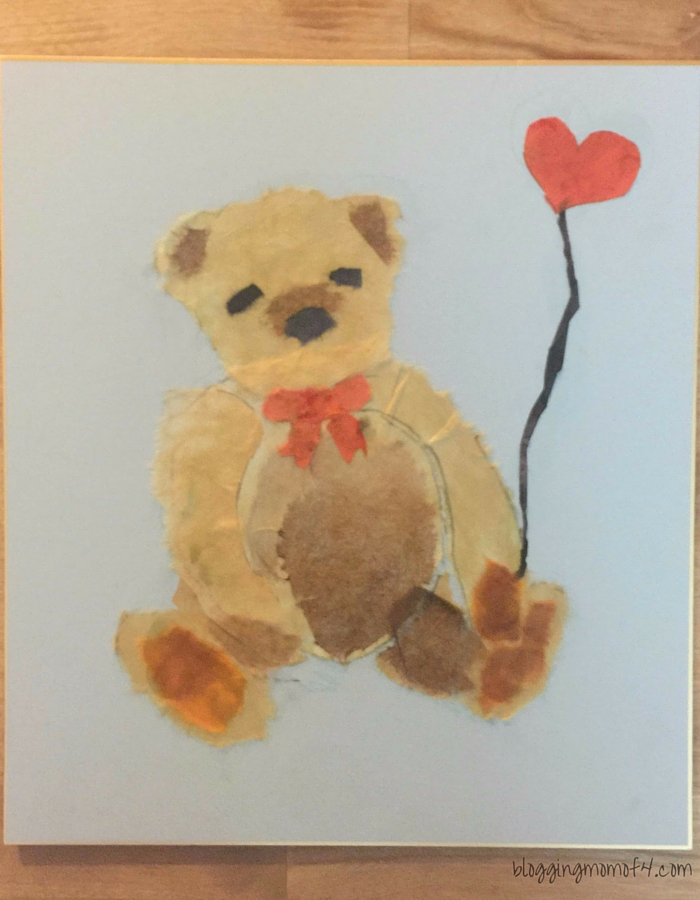 Want to try your hand at paper painting? Follow this link, purchase a Biri Biri set and get crafting!!
For a limited time, U-CAN is giving away free trial kits! All you have to do is click on this link to get a complimentary Biri Biri trial kit mailed to you … at no cost!
Have fun, take pictures and show me your creations!