Chicken, Yam, Green Bean One Pan Meal recipe first… then keep reading for the blog post portion.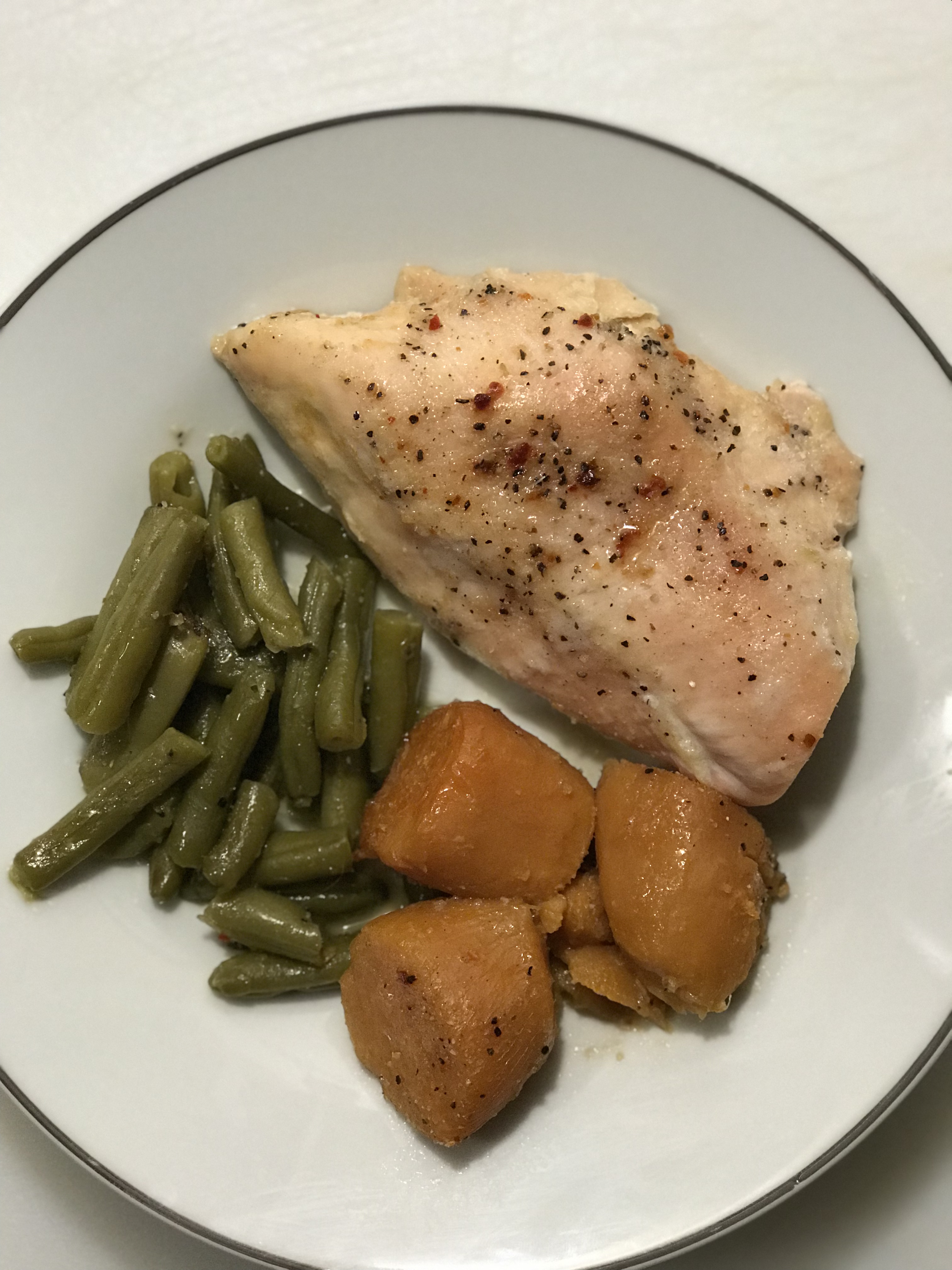 Chicken, Yam, Green Bean One Pan Meal
Ingredients
4 chicken breasts
1 can of yams
1 can of green beans
1/2 stick of butter
1 package of ranch dressing mix
Directions
Pre-heat oven to 350. Place the 4 chicken breasts in the middle of your pan. Add the yams to one side and the green beans to the other side. Cut up butter and place around the pan. Sprinkle the ranch dressing mix over all. Cover with foil and bake for 1 hour or until chicken is cooked through.
I was recently looking for some new recipes to try. I don't even remember what recipe I had stumbled upon but I happened to read some comments. I read one that made me laugh. It was something to the effect of, "Just get to the recipe. I don't want to read a big, long story about how your day was or what you're currently doing while making this recipe."
Let me tell you, I too have thought similar. When I'm looking for a recipe, I don't want to have to scroll to the bottom to find it. But I'm also a blogger so I understand why recipe posts also have a 'blog' portion. 😉
The short explanation is that bloggers strive to write quality content. Content that Google thinks is worthy enough to put at the top of their search engines. If we only post the recipe, Google would would not see that as quality content. Then you as a reader, when searching for recipes, may never find our blog. Then really, our time is wasted.
So anyway, I thought I'd try posting in reverse. Give you the recipe you're looking for and the blog portion at the bottom. That way, if you care to read my musings (and I hope you do), you can stick around.
As for this recipe, this is one of my family's favorite meals. And it's so easy! There's something to be said about a one pan meal. Not only is it easy but clean up is a breeze.
We love this recipe so much that I try to always have a can of yams on hand. You could always use cut up sweet potatoes too. I use thawed chicken breasts but I have not tried with frozen.
You could also try different seasonings. If you don't like ranch, try the Zesty Italian or just salt and pepper. We like the ranch so much, though, that I haven't tried any others yet.
Let me know if you try this and what you think. Enjoy!
Make sure to check out our other recipes too.
Pin for later: