Over the weekend, there was a bit of a storm that brewed in the blogging world. Because of my ties to said storm, I found myself in the middle of it all. Without going into detail on what caused the storm, I will give you a bit of a background. There was a controversial blog post written that got this said storm brewing. Many readers were outraged, other bloggers were outraged and a lot of drama ensued.
I try to avoid drama and controversy at all costs. I don't like it, it makes me uncomfortable and I don't believe that it's good for my brand be involved in it. I made a very tough decision to separate myself from it and cut some ties. In doing so, I hurt some feelings. Unfortunately when you make decisions like these, that might happen. But I do feel bad about it. That's just me.
This week, I saw this come across my Facebook feed and it helped me get through.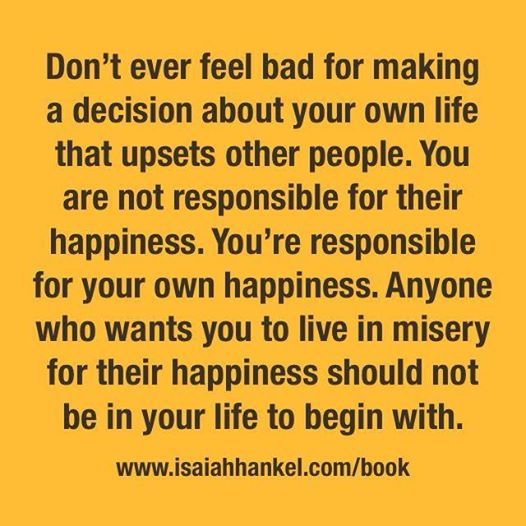 I don't think this other person intended to make me "live in misery." In fact I'm sure that I didn't even come to mind when she wrote this post. But in the end, I was hurt by it and was brought into the controversy.
The subject matter of this controversial post was that parents are to blame for their child(ren) being fat. I've been doing a lot of thinking about this post, the context, the person who wrote it, the comments and replies that it's gotten.
I am overweight and have been since I was a child. Do I blame my parents? Nope. Contrary to what the article says and what some of the commenters said, I believe that you can be pre-disposed to being over weight.
I've been seeing a endocrinologist for years to try to help me lose weight. After trying everything, my doctor finally told me that my body is 'set' to be at this weight. He added that having a weight loss surgery might be my only hope so that my body chemistry will change. He knows I don't over eat and have tried several weight loss methods. No matter what I do and even if I do lose weight, my body will go back up to the weight it's set at.
Now I'm really not wanting to debate the medical science of weight back and forth, just giving my background. One of the comments (of said controversial post) said that those parents that were upset by the post were probably overweight themselves and took it personally, didn't want to face the facts. Sure, that's a good point. I know I took it personally but not necessarily for the above reason.
I have 4 active and 'thin' children. They take after their father who could eat anything he wanted and never gain weight. Me, I look at food and gain weight. Whenever I think about my kids and weight issues, and especially while reading said controversial article, I thought of my little Faith. It brings me back to a time that she was not healthy and definitely not happy. It was a very hard and depressing time for us.
Faith has Crohn's Disease. She was diagnosed almost 6 years ago at the age of 4. It took 2 full years to get the disease under control. In that 2 years we spent a lot of time at the children's hospital. Faith was on and off of steroids and miserable. The steroids helped her symptoms but she had the immediate weight gain as a side effect.
We were looking at pictures over the weekend and could see how about every 6 months she'd gain weight, then lose it and then gain it again. All while going on and off of the steroids.
The top picture is Faith on her 4th birthday. The picture on the bottom is her only 4 short months later. I tear up when I see this because I remember how unhappy she was. This started her not wanting to be in any pictures. We'd have to sneak a picture in order to get one. She's still camera shy to this day.
Do I realize that the writer of the controversial post was not referring to kids with medical issues? Sure, absolutely. However, when you judge by sight alone, you are not getting the full picture. You do not know if they're overweight because of a medical issue, you do not know what is going on inside that family. You are just purely judging.
So is it OK to judge others?
A quote from the controversial post:
I am judging. I am concerned. I should be. I am worried that your child will have these habits forever. I am frankly worried that America is getting fatter and fatter and the quality of life people enjoy will soon be replaced by diseases and health conditions due to weight and inactivity.

I was told I was shaming the parents. I sure am; they deserve to be ashamed. It is our job to do what we can for our children because that is our role, to provide our children with the best life possible.
I get it, I do…America is an overweight society. We can give excuse after excuse as to the reasons. No, it's not ok but can you truly judge just by looking at a person? At a child?
I was never ashamed of my Faith. I was not ashamed by the way she looked. That Prednisone saved her life! However, what bothered me was the looks and the judgement. Not for me but for her. This poor child did not deserve your stares and your comments and your judgement! You who are guilty of doing this to a child, or anyone for that matter, are wrong. You affected a part of her that we're still trying to over come. The one who should be ashamed is you.
Again, I realize that the writer of this article understands that there are medical issues that cause weight issues. However, when you just look at a person's outside, you have no idea if there's a medical issue behind it. And when you make a blanket statement, you're calling out everyone with an overweight child, medical issues or not. You don't know what is going on. Feel very blessed that you have happy, healthy children and have never had to deal with weight issues or medical issues. You could never understand.
I truly know that the writer of the article thought she was doing good. Stir up some controversy and maybe people will stand up and take notice. Maybe it will spark them to do something. However, if you're going to openly judge, then do it with compassion.
I struggle with the question of… Is it OK to Judge Others?
If you are of Christian Faith, there's a lot about judging in the Bible. I found a great article – Is It Right To Judge?
Here's a snippet from the article that stood out to me in regards to the topic:
Judge in Truth

Do not judge another when you do not have all the relevant facts. Jeremiah 5:1 says, "Run ye to and fro through the streets of Jerusalem, and see now, and know, and seek in the broad places thereof, if ye can find a man, if there be any that executeth judgment, that seeketh the truth; and I will pardon it." A true judge is one who seeks the truth. If you must judge, be sure and get all the facts. A Japanese proverb says to "search seven times before you judge."

Judge Mercifully

Remember the words of Jesus in Matthew 7:2: "For with what judgment ye judge, ye shall be judged: and with what measure ye mete, it shall be measured to you again." You'll reap what you sow (Gal. 6:7-8). If you are swift and harsh in judging others, then God will see to it that you receive the same from others. Has God not been very merciful to you, even though you deserved it not? Likewise, you should exercise mercy toward others.
It took a while and a lot of back story for me to get to my point. But I think the above says a lot about judging others. Christian or not, if you feel that it's your 'job' to judge then Judge in Truth and Judge Mercifully.
Be kind; everyone you meet is fighting a hard battle. –JOHN WATSON