Disclosure: I See Me is part of our 2015 Holiday Gift Guide. However, all opinions are 100% my own.
My kids love getting presents with their name on it, probably because when you have four kids, they like having something of their own. Then again, I'd bet it's that way for any family. From one child to many, wouldn't they all like to have things personalized? One idea for personalized gifts is I See Me! Personalized Children's Books.
My Night Before Christmas Book from I See Me!
Nestle your child all snug in bed with this classic personalized Christmas story. This beautifully illustrated storybook is sure to become a tradition your family will cherish every holiday.
I sent this one to a sweet little guy named Grady! Take a look at how excited he is to get his very own personalized book: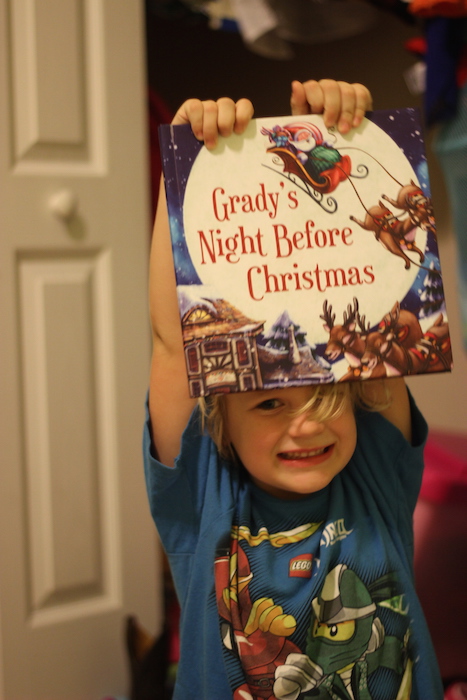 Grady and his big brother sat down to read his very own personalized Night Before Christmas story book. So cute to see kids reading and reading together. I love it when the older siblings start reading to the younger ones. Just so precious. And even sweeter when it's a classic book like Night Before Christmas!
The book has several pages personalized to each child. Just so sweet to see their reaction when they hear their name in the story! Grady will be able to treasure this book for years and years to come.
The only issue is that now his older sister would like her very own personalized story book. That's a problem that can be easily fixed though with I See Me! So many fun things to choose from. I'm sure we can find something for Madelyn too. 😉
About I See Me!
Kids love being the stars of their very own stories, so just imagine their delight when they discover that their new storybook has a very familiar hero. Personalized storybooks from I See Me! make children feel special while encouraging important skills such as reading, letter recognition, and learning to spell their own names.

Beautifully illustrated and professionally bound, customized books from I See Me! take quality and personalization to the next level. Animals might bring letters one by one to spell out your child's name. Fairies might bring the letters of your child's name and then crown her as their fairy princess. The hero might have the same hair color and skin tone as your child, or a photograph of your child's face might be playfully incorporated into the illustrations.

Storybooks from I See Me! can help children develop basic reading skills, teach them to recognize their own name in print and lay the groundwork for writing their own names. These entertaining books also build self-esteem by celebrating the uniqueness of each child.