Along with our four kids, we have two dogs. They are definitely a part of our family and two extra kids. We love having them. Their love is unconditional. No matter if I step out of the house for one minute or am gone for a day or longer, they are so excited to see me walk back in the door.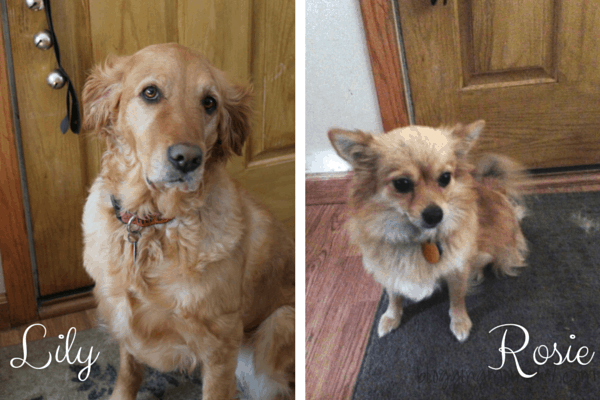 How Did You Name Your Dog?
Our Golden Retriever's name is Lily. We also have a PomChi named Rosie. Both animals were given their names by our kids.
Lily is 6 years old and back in those years Hannah Montana was pretty big. The TV show was always on. Anyone who also watched it knows that Miley's best friend was Lily. We have friend's who named their dog Miley.. we named ours Lily. 😉
Rosie we got specifically for our youngest daughter. Faith is a tiny little thing so we wanted her to have a tiny little friend too. Faith gave Rosie her name. I think we like those flower names. 😉
Lily and Rosie are best friends.
Have you seen this Duck the Dog video? Pretty cute story of how this little cutie got his name.
Iams is good for life, check out this cute video that shows the life of Duck the Dog:

Wasn't that adorable!? I think it is so important for kids to have pets that they can grow up with. Part of making sure that happens is feeding your furry family members the best food for them. We know that Iams has us covered!
So what makes Iams the best?
IAMS™ ProActive Health™ products are fortified with essential minerals to help build strong bones. They're also enriched with antioxidants to help develop a strong immune system and build strong, firm muscles with protein sourced from chicken and egg. So you know that your dog will not only love the taste, but they will be getting everything they need with each bowl.  IAMS™ products also help dogs stay vibrant and active because they are based on years of research and dedication to the health of pets.
So be confident in your dogs food decision with Iams. IAMS™ products are available for purchase now at mass retailers and pet stores nationwide. Make sure to visit the Iams Website, Facebook Page, and Twitter page for ore information.
I was selected for this opportunity as a member of Clever Girls and the content and opinions expressed here are all my own.