Disclosure: Disney invited me out to the Muppets Most Wanted Red Carpet Premiere held at the El Capitan Theatre. All opinions are my own.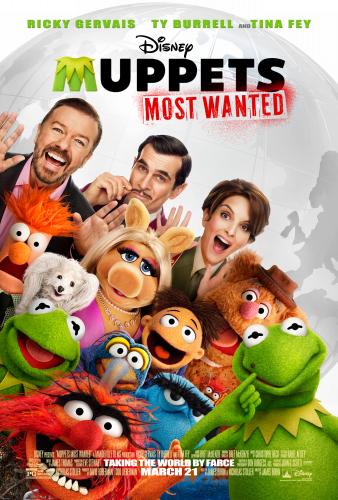 Attending a Red Carpet Premiere event is like no other experience. It's a whirlwind of excitement. I don't find that I'm too big of a fangirl when it comes to meeting celebrities but when you're walking that red carpet it's amazing! You can't help but get caught up in the excitement.
I was one of the lucky bloggers invited out by Disney to cover the Muppets Most Wanted Red Carpet Premiere. Not only is the event itself magnificent but you get to watch the movie in the famous El Capitan Theatre. That in and of itself is an experience. The theatre is huge. It was awesome getting to see Muppets Most Wanted in the El Capitan.
Before I get too ahead of myself, we walked from our Hotel – the Hyatt Garden Inn – to the El Capitan. It's only a few blocks away. We actually walked through the Hollywood and Highland Center – home of the Academy Awards and the Oscar's Steps! It's located in the heart of Hollywood, along the Hollywood Walk of Fame and is among the most visited tourist destinations in Los Angeles.
We navigated around the crowds and crowds of people to find our way to the beginning of the red carpet. We were not like the celebs that walked right down the middle of the carpet but got our own little section beside them…our own little red carpet where we were still very close to the action.
Being among the crowd and close to everything was simply amazing. I can't even describe it. We took our seats and watched the Muppets Most Wanted Premiere. Seated amongst some big names including the stars of the film. I actually bumped right into David Koechner – who played Todd Packer on The Office and other great roles ie: Anchorman. Yep, bumped into him literally. He was backing up and didn't see me. 🙂 He was having a chat with Melora Hardin – who played Jan Levinson on The Office. I had my own little moment.
After watching Muppets Most Wanted, which is fantastic btw, we went over to the after party. Talk about out of my element and another one of those once in a life time experiences! The party was decked out in fun Muppets Most Wanted food, activities and picture stations. While in line to get a fun pic, I ran into this cutie and her co-stars from Dog With a Blog.
With my best blogging buddy Sherry from Family Love and Other Stuff, we made our way around the party bumping elbows with some of the greats! Including Josh Groban!
The whole experience is one I'll never forget…although right now it feels a bit like a blur. Thankfully I have lots of pics to remember everything.
I've added a gallery of more of my pics at the bottom of the post so you can flip through. Just click on the image to see a bigger image.
I'll be adding more posts all about the Disney events and ABC TV events that I attended so keep checking back!