Monthly Dog Box review disclosure: I have written this post on behalf of BlogPaws Pet Blogger Network for BarkBox. I am being compensated for helping spread the word about BarkBox , but Blogging Mom of 4 only shares information we feel is relevant to our readers.
Do you have some furbabies that are a big part of your family? If so, they deserve a little Christmas too, don't you think? I always get my animals something on Christmas. If for no other reason, it does keep them busy while everyone else is opening presents. Don't want our animals ripping open gifts and eating paper. 😉
I love being able to try out different items, products, food for our animals. They enjoy it too! I was selected to try out a monthly dog box from BarkBox.
BarkBox is a monthly subscription box for dogs where your dogs can receive some cool items and treats delivered straight to your door. The monthly boxes include homemade, all-natural treats and high-quality, unique toys. Plus they are things that you may not typically find in your local pet store. A new BarkBox gets shipping out on the 15th of every month. Maybe now my dogs will grow to love the mailman. HA!
BarkBox have different plans and cost as little as $19 per month (10% of all proceeds is donated to dog shelters and rescue initiatives) and shipping is free. The boxes are tailored to your dog's size so you know everything is right for your big or little dog.
AND right now you can get $10 OFF. Just click on this link to BarkBox to start your subscription!
Here's the Monthly Dog Box that arrived for Lily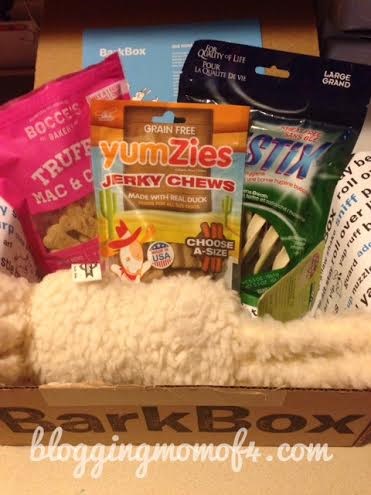 She loves treats and loves toys! She couldn't wait to get in that box and have at it. While we don't like her jumping up on anything, I had to snap this picture…love how she knew this was for her.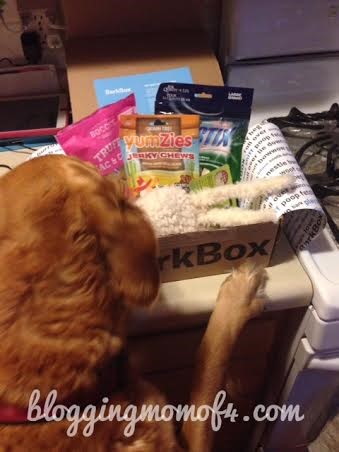 She grabbed her toy and ran off to play. She LOVES stuffed animals but usually destroys them within minutes. I love that this one doesn't have stuffing to get all over the place. Let's see how long it takes her to get through this one. 😉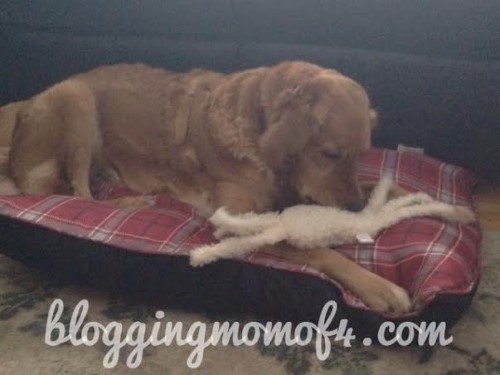 Oh sweet doggie. I love making her happy with treats and toys!
If you've got a furbaby that you want to spoil with a Holiday dog gift, check out BarkBox!
You can also find them on:
Facebook: https://www.facebook.com/barkbox
Twitter: https://twitter.com/barkbox
Pinterest: http://www.pinterest.com/barkbox/
Instagram: http://instagram.com/barkbox
Topic: Monthly Dog Box from BarkBox