Disclosure: Disney provided me this trip to the Monsters University Premiere for review purposes only. All opinions are my own.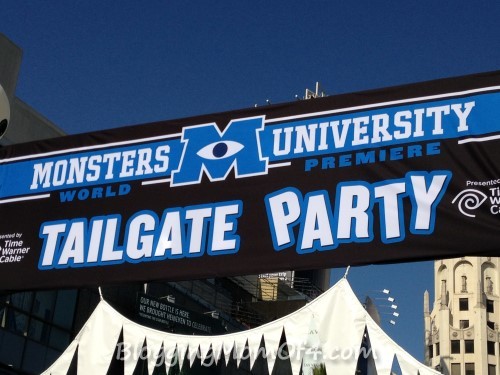 Monsters University Tailgate Party
I love Monsters Inc so I was very excited for Monsters University. Even more excited when Disney invited me out to L.A. to attend the premiere. I've never been to California or L.A. so this was an awesome opportunity for me.
First up on our schedule was the Monsters University Tailgate party. Along with 24 other bloggers, I boarded the party bus and was on my way.
Instead of walking the red carpet, we walked the blue carpet. The street was decked out in royal blue and white. As was I. 😉 (Royal Blue and White are the MU school colors)
After walking the blue carpet and being treated like a celebrity, we headed off to the Tailgate portion of the event….stopping first to grab our pom poms and spirit gear.
It was amazing to be just in the vicinity of the Tailgate party. The energy and excitement was awesome! I loved the Monsters University cheerleaders and band. So fun!
The event was lined with booths of yummy foods to eat and games to play. There was so much to do and eat that I didn't know where to begin. Subway caught my eye first, followed by Cinnabon and Auntie Anne's. I didn't get the chance to go to every booth…I would have been in a food coma if I had. 🙂
While immersed in the tailgate party fun, I had my first celebrity spotting. Nathan from Heroes (Adrian Pasdar) was standing just a few feet away from me! Yes, I embarrassed myself a bit by freezing in my spot, jaw dropping. Sherry from Family Love and Other Stuff, had a good chuckle over my reaction. HA!
Most other celebs were fashionably late and just arriving, so we headed over to the blue carpet to see who we could spot. So many amazing actors. Some of which, I knew that I recognized but couldn't think of their names…Sorry to those actors. 😉 I loved seeing Wayne Brady, Billie Crystal, Ed Begley Jr. and of course I recognized all of the actors from the shows my kids watch. I made sure to get pics for my kids.
Then Sulley and Mike themselves made an appearance. The biggest stars of all!
The night was filled with incredible moments. I'm so happy to have the pictures so that I can remember every detail. The night seems like a blur right now.
After the tailgate party, we headed in to El Capitan Theatre to watch the Monsters University Premiere. So exciting!
Make sure to go see Monsters University when it opens tomorrow, June 21st! Then come back and read my next post all about the Monsters University Premiere!
(Feel free to browse through some of the pics I took. To see a larger image, just click on the pic).
Topic: Monsters University Tailgate Party