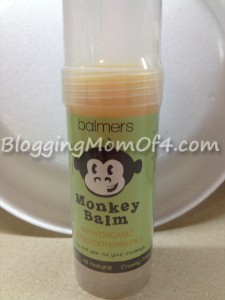 Monkey Balm
Guest Review: Lueck family
We've been using the Balmer's Monkey Balm on our two children (and ourselves) for two weeks now and we are loving it! My 4 year old son has always had issues with eczema and our 19 month old daughter also has some pretty rough dry patches from the cold Wisconsin winter air!
My favorite part about the Monkey Balm is that it is made out of natural ingredients. I don't have to worry about that kind of alcohol or chemicals I'm putting on my children's skin. It isn't a heavy, perfumed scent and it isn't sticky or heavy. My kids love it because "it doesn't sting like the 'white' lotion mommy". I've found that warming it up a bit by rubbing the lotion stick on my own hands or elbows works really well and then it is a lot easier to apply to their delicate skin, plus I get the benefits on my dry skin too!
We've been using it twice a day, every day, plus extra after bath time and its working really well. My kids are actually asking to be lotioned up – something that NEVER happened before we tried this product. It is keeping their skin soft and smooth and even the worst patches of my son's eczema are getting better. We've even been using it on their lips to combat the dry air and the constant "sleeve wiping" that little boys love to do!
Thank you Balmer's for an amazing product that is safe, easy and fun to use, and very effective!
About our family:
The Lueck family is Wisconsin born and bred! Josh, 32, currently works nights at a local emergency room while finishing up his Nursing degree. Amy, also 32, works in the same hospital as a member of the administrative and legal department. Together they have two children, Cullen – age 4, and Piper – 18 months. Along with their two cats (Monkey and Poppy), they keep busy with creative play and their love of art projects and family outings!
Disclosure: The above mentioned product was received for review purposes only but did not affect the opinion of the reviewer(s).