This shop has been compensated by Collective Bias, Inc. and its advertiser. All opinions are mine alone. #HeroesEatMMs #CollectiveBias #shop #cbias
Wooohoooo! Captain America: The Winter Soldier is now out on Blu-Ray/DVD. Have you picked up your copy yet? I was at Walmart on Tuesday picking it up. I couldn't wait to buy it and have our movie night. While at Walmart, I also picked up ingredients for my M&M's™ Superhero Snack Mix. Gotta have a great snack for movie night!
Finding my M&M's at Walmart.
The M&M's are easy to find. The rest of the ingredients are too. Especially since you can really make this your own snack mix. You can add whatever you'd like. Whatever cereals are your kids' favorites plus other goodies. I decided to add marshmallows this time around but forgot to add pretzels. It's good either way.
The Almond Bark is easy to find as well. Right in the baking aisle.
When I got home, I quickly made up a big batch so that it'd be ready to eat when we popped in Captain America: TWS.
Here's the recipe for this yummy, easy M&M's Superhero Snack Mix:
M&M's Superhero Snack Mix
Ingredients
1 bag M&M's (any kind)
2-3 kinds of cereal (any kind – I chose cheerios, corn chex, fruit loops and crave)
Additional items optional (ie: marshmallows, pretzels)
1 package of vanilla flavored Almond Bark
Directions
Mix all cereal, marshmallows, pretzels, etc in a big bowl or gallon size bucket. Melt Almond Bark according to directions on package. Pour over snack mix and mix well to cover. Lay out on wax paper to set. Eat and enjoy!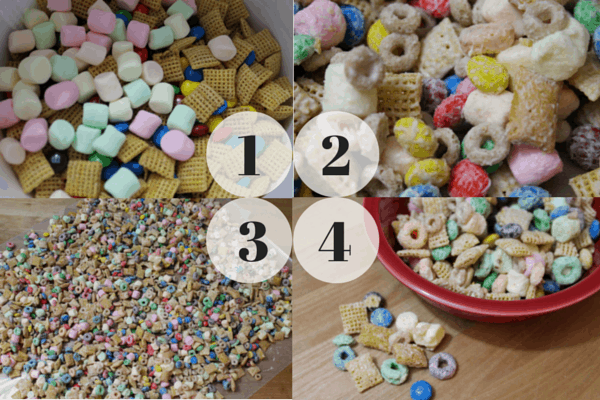 On a side note, did you know Superheroes eat M&M's? They sure do! Make sure you print off this $5 Off coupon and then you can pick some up for your little Superheroes.
With our M&M's Superhero Snack Mix in hand, our 3D glasses on and Captain America: The Winter Solider queued up, we are ready!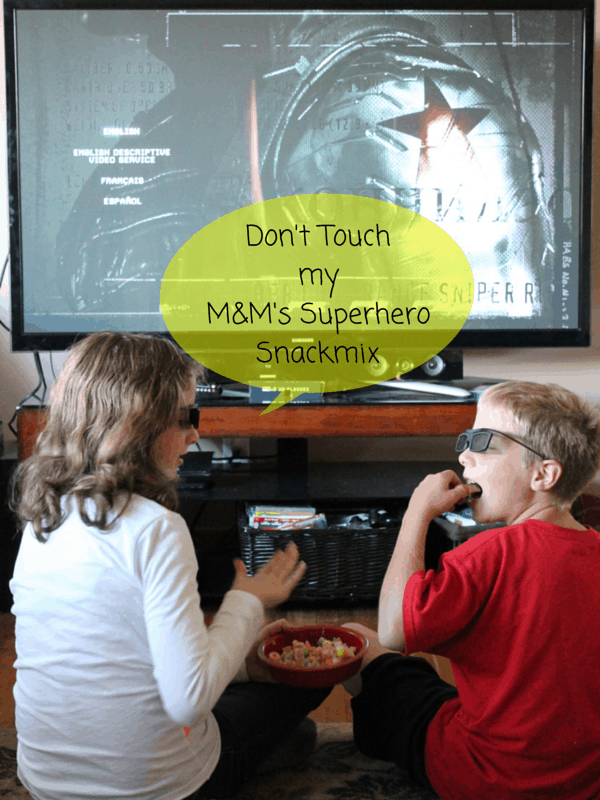 And on another side note, I had fun playing around on heroeseatmms.com. In case you were wondering, i'm the Yellow M&M. 😉 Which M&M are you? How about Superhero?
Enter to WIN Walmart Gift Cards!
Topic: M&M's Superhero Snackmix