Ready for an awesome new show your kids (and you) are going to love?? Mickey Mouse and the gang rev up for 'Mickey and the Roadster Racers,' an action-packed racing series, premiering in a simulcast Sunday, January 15, on Disney channel and Disney Junior! Photo Credit "Disney Junior/David Moir"
I'm so excited to share with you details of the new show Mickey and the Roadster Racers! While in San Fransisco, we had a chance to preview a couple episodes plus sit down with Producers Mark Seidenberg and Rob Laduca.
Mickey and the Roadster Racers is such a fun show. I think you're kids are going to love it. Plus, with recurring guest stars including racing icons Jimmie Johnson, Danica Patrick and Jeff Gordon plus Jay Leno, Tim Gunn, Hoda Kotb and Gordon Ramsay, I think mom and dad will love it too!
Disney Junior's animated "Mickey and the Roadster Racers," a madcap car-racing adventure series for preschoolers led by Disney's No. 1 star, Mickey Mouse, and his pals Minnie, Pluto, Goofy, Daisy and Donald, will make its television debut in a simulcast SUNDAY, JANUARY 15 (9:00 and 9:25 a.m. EST), on Disney Channel and Disney Junior. Two more episodes will premiere MONDAY, JANUARY 16 (9:00 and 9:25 a.m. EST), on Disney Channel. Episodes will also be available on the Disney Junior app and Disney Junior VOD beginning Sunday, January 15, and on iTunes beginning Monday, January 16.

The series, which will premiere internationally throughout 2017, takes Mickey and the gang, along with their unique transforming vehicles, on humorous high-spirited races around the globe, as well as hometown capers in Hot Dog Hills. Off the racetrack, Minnie and Daisy also run their own successful business as Happy Helpers, solving problems for anyone in need of a helping hand. Geared towards kids 2-7, the stories are designed to impart social and emotional lessons about friendship, teamwork, optimism and good sportsmanship.

NASCAR stars Jimmie Johnson, Danica Patrick and Jeff Gordon recur as race car drivers Jiminy Johnson, Danni Sue and Gordon Gear, respectively. Additional guest stars include television personality Jay Leno as announcer Billy Beagle; Tim Gunn ("Project Runway") as Robbie Roberts; Gordon Ramsay ("MasterChef") as Chef Oxley; Hoda Kotb ("The Today Show") as Mrs. Sweetums; Peter Serafinowicz ("Guardians of the Galaxy") as Dr. Crutchley; Jane Leeves ("Frasier") as the Queen of England; Fred Willard ("Best in Show") as Mr. Doozy; Hector Elizondo ("Last Man Standing") as Grandpa Beagle; Tony Shalhoub ("Monk") as Luigi; Kate Micucci ("Garfunkel and Oates") as Emmy Lou; Tia Carrere ("Wayne's World") as Antie Olina; and comedian Patton Oswalt as Mr. McSnorter.

The Emmy-nominated creative talent behind Disney Junior's hit series, "Mickey Mouse Clubhouse" and "Jake and the Never Land Pirates," comprise the production team: Rob LaDuca is executive producer, Mark Seidenberg is co-executive producer and supervising story editor, and Thomas Hart is story editor. The series is a production of Disney Television Animation.

Beginning Sunday, December 25, on the Disney Junior App, kids can unlock daily content, such as short videos and mini-games, via a Hot Dog Hills interactive map counting down to the series premiere. A suite of games featuring a unique experience with each one of the Fabulous Five will be available on the app on Sunday, January 15.

Brand extensions timed to the series premiere include toys, storybooks, apparel, plush and home décor from Disney Consumer Products and Interactive Media. The theme song is currently available on iTunes, and Disney Studios will release a DVD this spring.
When we sat down with Mark and Rob, they gave us a bit of background on how Mickey and the Roadster Racers came to be. They took a look at what was most popular on Mickey Mouse Clubhouse, which is the Clubhouse Road Rally. So they expanded on that. Each character gets their own car that fits their personality.
we gave Mickey a classic hotrod. It's his normal car from Clubhouse, and then it turns into this classic American Roadster. A Hotrod easily made from a model T. Goofy's personality, being so goofy, if his car could transform, what would it transform into? A bathtub. And Minnie being elegant, and into fashion, we went with kind of a bow car, but basically the design comes from a French car called a Delahaye that had very smooth curves, and looked kinda like a bow.

Well, Daisy loves flowers, so we wanted to turn her car into a smoking dragster. Snap dragon. And then, Donald, well, he's a sailor, so we created the cabin cruiser. And his is the only roadster at this point that can go on land, and in the water. Which is very cool…

Minnie's got a Pink Thunder. And Mickey's is the Hot Dog and Hot Rod.

Hot Dog and Hot Rod…And Goofy's is the Turbo Tubster.
Now where did they research for all of these classic cars? They looked at Big Daddy Roth, who customizes cars as well as George Barris who did the Batmobile, the Adam's family Munster-mobile and the Monkees van. But the ultimate car collection that they looked at was Jay Leno's.
While visiting with Jay and taking a look at his collection, they asked him if he wanted to voice a character. Jay being a huge Disney fan, quickly said yes!
Now if your kids are a fan of Mickey Mouse Clubhouse, no worries. It will continue to air. Mickey and the Roadster Racers is an additional show for your kids to watch and love. This one will be more about the themes of sportsmanship, loyalty and teamwork. As well as teaching kids how to deal with their problems. Ranging from a bad temper to never giving up.
Which characters will we see in Mickey and the Roadster Racers?
Mark and Rob assure us that all characters will be featured well. We'll get to see a lot of Minnie and Daisy, Chip and Dale, ClaraBelle and Hilda the Hippo. They'll be bringing back some of the favorites like Horace Horsecollar and Pete. Pete will be taking on different guises. Sometimes the villain.
Mortimer Mouse will also be coming back. Which speaking of, did you know that Walt originally wanted to call Mickey, Mortimer? Thankfully his wife convinced him not to. 😉
Along with all of our favorites, they're bringing in a lot of new characters and celebrity voices. Including Tim Gunn who plays a travel critic, Gordan Ramsay who plays a chef and Hoda Kotb who plays Mrs. Sweetums.
Mickey and the Roadster racers will appeal to both boys and girls. Little girls will love watching Daisy as a mechanic and Minnie decorating the cars. Both are very involved in the garage and of course race.
At the end of our visit, we had a surprise guest!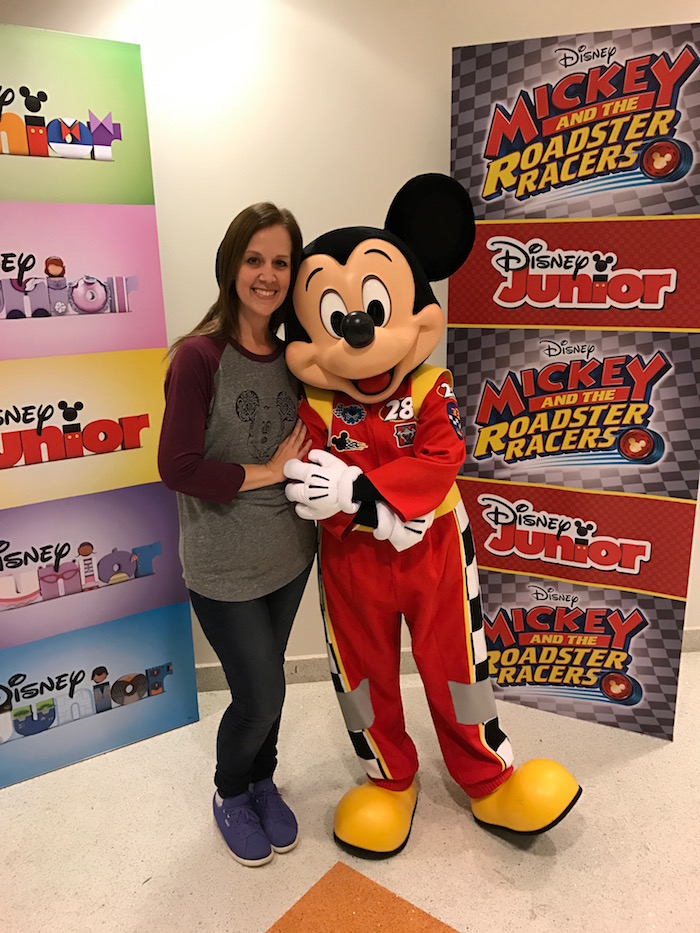 Oh Mickey! Quite the charmer!
Take a look at this exclusive clip and don't forget to tune in on Sunday, January 15, on Disney channel and Disney Junior!
"Mickey and the Roadster Racers" Behind the Scenes Featurette