Thank you to PeachSkinSheets for sponsoring this post on the best way to choose and match sheet colors. All opinions are our own.

The Softest Sheets Ever!
It's time for a bedroom refresh! Now that it's fall and the leaves are changing I want to change all the colors indoors. Do you do that, too? I'm thinking some deep, rich, warm colors like Pumpkin Spice or Eggplant would be perfect. I just need to go shopping and find something spectacular.
PeachSkinSheets makes it so easy to choose and match sheet colors to the rest of your bedroom set by offering free swatches of their sheets. I ordered swatches first so that I can take them to the store and match the colors.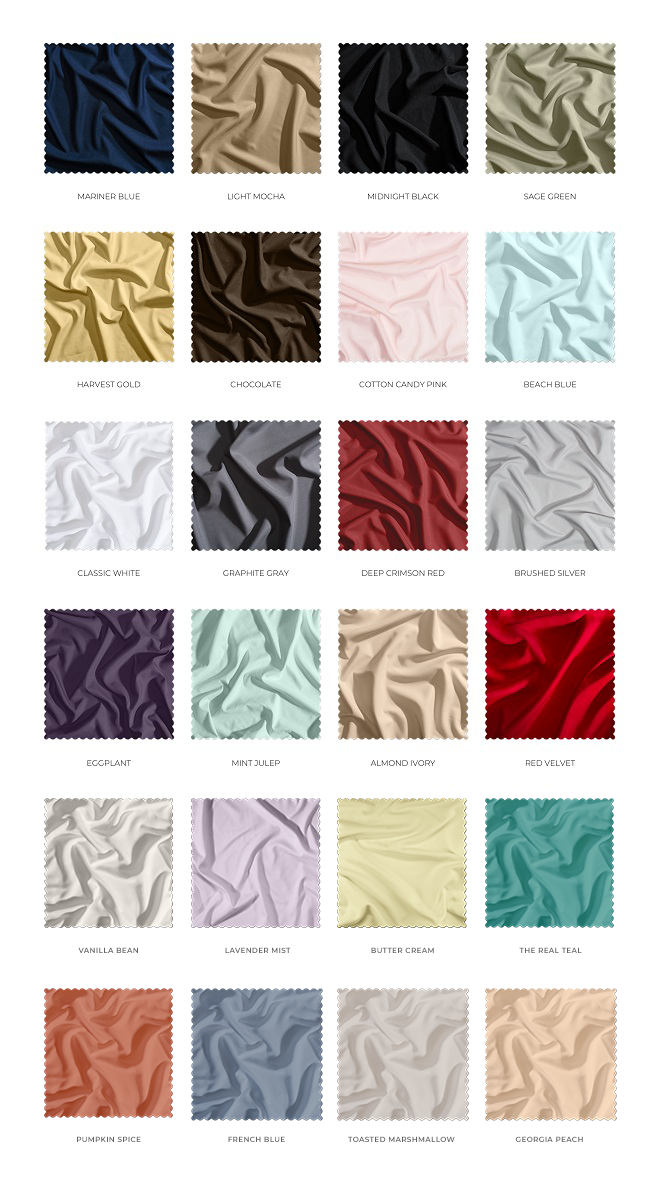 Easiest Way to Choose and Match Sheet Colors to your Bedding
I have been loving plaid and eyeing a new comforter set that is super soft and cozy. I brought in my swatches so that I could find the best match sheet colors.
The Vanilla Bean would, of course, match but I also think we could go with Deep Crimson Red or Brushed Silver.
We've used PeachSkinSheets in the past and they've always been our first choice when it comes to sheets. These sheets are breathable, ultra-soft, anti-pill, and anti-snag plus they feature thermal control and moisture management properties. That means warm sleepers stay cool (yay!) and cool sleepers stay nice and cozy.
They use a durable athletic grade performance SMART fabric that wicks away moisture to keep you drier and more comfortable. PeachSkinSheets are 1500 thread count soft and feel so luxurious on your skin. Want to know the best thing about these sheets? The 18″ deep pockets with elastic all the way around so the sheets stay on the bed – all the time. Heaven!
PeachSkinSheets Bed Sheets for Hot Sleepers
How much will you spend on PeachSkinSheets?
Prices start at $65. PeachSkinSheets always has 3 Colors of the Month priced at $65 for any regular size set and $85 for Split King and Duvets. Their regular sale price is $89.95 for any size set while Split King/Adjustable Bed, and duvet specialty sizes are $109.95.
Available in Split King, Cali King, King, Queen, Full, Twin and XL Dorm Twin and XL Dorm Full.

These sheets would also make an amazing gift. Trust me, they are the best!
About the Company
The Original PeachSkinSheets® was founded in 2013 and is based in Atlanta, Georgia. We pride ourselves on being The Original, One and Only Authentic Brand, and our signature peach zipper pull is featured on every sheet package. Our affordable bed sheets are made from a breathable, high performance athletic grade SMART fabric that is great for hot sleepers due to its thermal control and moisture wicking properties. In addition, the ultra soft brushed finish provides a softness level that parallels 1500 thread count cotton but without the shrinkage, wrinkles and pilling. We thrive on being a quality company with a quality product and going the extra mile for our customers. You can find us online and at local pop up events in Georgia and surrounding states. Once you've tried them, we know that you will never sleep on anything other than The Original PeachSkinSheets®!
Facebook: https://www.facebook.com/Peachskinsheetscom
Twitter: https://twitter.com/PeachSkinSheets
Instagram: https://www.instagram.com/peachskinsheets/