OZ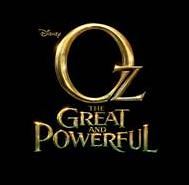 Disney just announced yesterday that Mariah Carey Recorded the song, "ALMOST HOME," for the movie "OZ THE GREAT AND POWERFUL." Take a look at some of the press release below.
Disney announced today that multiple GRAMMY® Award–winning superstar Mariah Carey has recorded the song, "Almost Home," for "Oz The Great and Powerful," the studio's highly anticipated fantastical adventure, directed by Sam Raimi, releasing in theaters nationwide on March 8, 2013.

"Almost Home" will be released as a single by Carey's label, Island Def Jam, on February 19, 2013.  Award-winning photographer/director David LaChapelle will direct Carey in the music video for "Almost Home."  The two long-time collaborators are reuniting in what LaChapelle describes as "a duet between Mariah and the movie."  LaChapelle photographed Carey previously for album covers, and directed her in the music video "Loverboy." Disney, Carey and Island Def Jam plan to launch a promotional campaign to support the single, the video and the film.
"Like" OZ THE GREAT & POWERFUL on Facebook: http://www.facebook.com/ozthegreatandpowerful
 "Follow" OZ THE GREAT & POWERFUL on Twitter: https://twitter.com/disneyozmovie
Visit the website: http://www.disney.com/thewizard
OZ THE GREAT AND POWERFUL lands in theaters on March 8th!