The reviewer has been compensated in the form of a Best Buy Gift Card and/or received the product. All opinions are my own.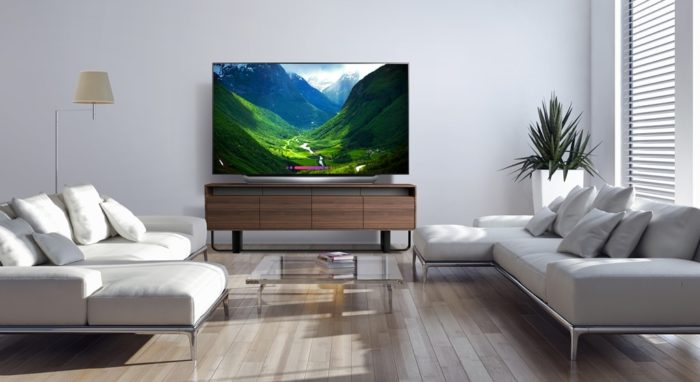 After the holiday break, all our favorite TV shows are now coming back. Plus, the big game will be on soon. Spoil yourself and watch them all on a new LG OLED TV.
LG OLED TV Screen Size
No matter what you're watching, you can have a movie theater experience in your own home with the 77-inch LG OLED television. Its advanced HDR enhances each scene to 4K quality. You'll get images with rich colors, sharpness and depth with its Intelligent Processor. And that screen size… amazing! You can immerse yourself in whatever it is you're watching.
LG OLED TV AI ThinQ®
Not only is the screen size impressive the LG OLED TV with AI ThinQ® has Google Assistant built in, so you can control compatible smart home devices using just your voice. Truly a command center for your smart home. You can easily and conveniently control your TV with voice commands to change picture settings, volume, search for shows and movies, launch apps like Netflix, Hulu, and more.
With a big screen TV, you want to make sure you're getting amazing color and the LG OLED TV delivers. You'll get perfect black and intense colors.
Each of the 8.3 million individually lit pixels of the LG OLED TV with AI ThinQ can brighten, dim or power off completely, achieving perfect black and displaying a level of picture detail impossible with any other television technology. The perfect black canvas and expanded color gamut of the LG OLED TV with AI ThinQ intensify its vast palette to match that level of color vibrance, recreating cinematic experience as intended by filmmakers.
You'll find true-to-life images with rich, amazing colors. Really allowing you an experience like no other.
LG OLED TV Sound Quality
Let's not forget sound quality. With this amazing TV, you'll get cinematic sound with Dolby Atmos®. Dolby Atmos content creates a more detailed sound experience that appears to come from everywhere for a wonderfully realistic, immersive experience that puts you inside the story.
All of the above, makes a really impressive big screen TV. Now if the 77″ screen is a tad big for your room, no worries. This TV is also available in 55 inch and 65 inch screen class sizes:
• Model: OLED55C8PUA (SKU: 6202832)
• Model: OLED65C8PUA (SKU: 6203009)
Learn more about all LG OLEDs available at Best Buy including special offers: Save up to $500 on select LG OLED 4K TVs.