Disclosure: I received the Epiphanie Brooklyn laptop camera bag for review purposes only. All opinions are my own.
I recently went on a press trip to LA. When you go on any sort of press trip, you need a lot of equipment. We're usually taking pictures, drafting posts and doing a ton of instant social media. I did not bring along my DSLR camera just because I didn't have a great camera bag. I did bring my laptop but I left it at the hotel because again, I didn't have a great laptop bag.
I noticed one of the other bloggers using a great laptop camera bag from Epiphanie. It was a backpack that held her DSLR, all her lenses and her laptop. AWESOME! Exactly what I needed.
I love all of the bags that Epiphanie offers. They are not only functional but stylish too. I picked out this Epiphanie Cobalt Brooklyn Backpack to use as my laptop camera bag. Its incredible!
Isn't it gorgeous!! I packed my camera and laptop in the bag to show what I can fit in it…so I ended up taking pics with my phone. Not as good as if I used my DSLR but it was packed in the bag. 😀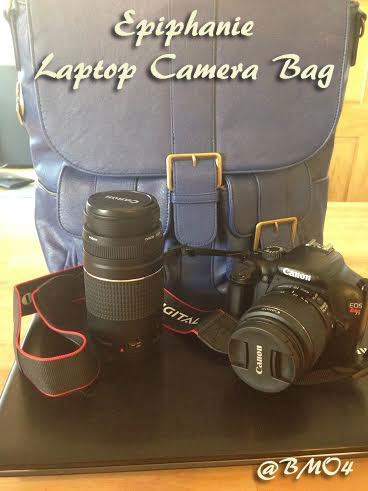 Everything shown in the picture fit into this laptop camera bag. PLUS, I actually could have fit more. There was still room for my phone, an iPad or iPad mini…even both if you had them. There was also still room for a wallet, pen, notebook, etc.
I also love that you can carry this bag on your shoulder, cross body or as a backpack. All straps are included to convert it to whichever style you prefer.
Here's some extra info on the Epiphanie Brooklyn Laptop Camera Bag
Meet Brooklyn – our stylish backpack/crossbody bag! Brooklyn was designed to accommodate your 15″ laptop, iPad or tablet/eReader, camera + attached lens, 1 long lens, 1 short lens, flash, battery pack and wallet. Extra pockets ideal for storage of keys, cell phone, memory cards, business cards, travel maps and more!

All dividers can be fully removed, so you can easily transition to an every day bag!

exterior:
14″L x 6.5″W x 14.5″H
weight: 4 lbs.
constructed with water-resistant, high-quality synthetic leather
two detachable shoulder straps so bag can be worn as backpack
detachable, padded cross-body strap two front pockets with magnetic snap closure
large front slide-in pocket (above small pockets)
slide-in pocket on each side of bag
zipper back pocket large enough to accommodate an iPad
zipper top closure under flap
antique brass hardware

interior:
ultra-soft beige lining
crafted with extra padding for maximum equipment protection
one sewn-in foam panel separating the laptop section
four Velcro panels can be adjusted to any position for maximum customization (2 long, 2 short)
remove panels to convert to a regular backpack
one large zipper pocket
Epiphanie has a lot of different bags for anything you need. Make sure you check out the giveaway on our site for your choice of Epiphanie bag. And don't forget to follow Epiphanie:
Facebook | facebook.com/epiphaniebags
Twitter | twitter.com/epiphaniebags
Instagram | instagram.com/epiphaniebags
Pinterest | pinterest.com/epiphaniebags
Topic: Laptop Camera Bag