Disclosure: I received Kwizniac for review purposes only. All opinions are my own.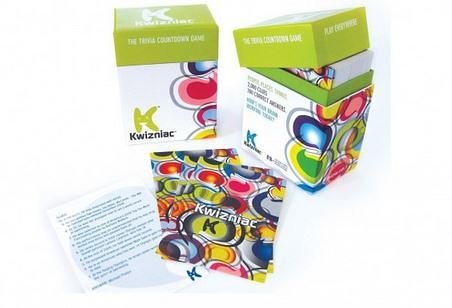 Kwizniac – The Trivia Countdown Game
Kwizniac is a trivia countdown game designed to test your knowledge under pressure. The object of the game is for players to accumulate as many points as possible by correctly answering as many trivia questions as possible. To help players correctly identify the answer to each question, a set of 10 clues is provided in decreasing order of difficulty, where each clue is easier to decipher than the previous clue in sequence. For the Kidz edition, there would be only 5 clues. The number of points a player receives for a correct answer decreases as he or she progresses through the sequence of clues. The player with the highest score wins the game.
Do you get together with friends or have a game night? Kwizniac would be perfect to play at game night or a get together. The Holidays are coming up and there will be lots of get togethers, family gatherings, and parties including New Years Eve. Think ahead and grab a game like Kwizniac.
Kwizniac is very portable. You can bring it along and pull it out anytime that you have a few people together. I also reviewed Kwizniac Kidz so there is a younger version as well. Grab them both and you'll have a game for any get together. This version of Kwizniac is made for players 12 and up.
Here's a sample…see if you can guess the answer in the fewest clues.
Clue 10: Studies show that you are never more than 3 ft away from one.
Clue 9: They are an ancient mythological symbol for patience.
Clue 8: They have blue blood.
Clue 7: They do not have a skeleton.
Clue 6: They can jump up to 40 times their own body length.
Clue 5: Two nursery rhymes have been written about them.
Clue 4: They are ranked among the top 10 greatest fears.
Clue 3: A famous superhero is named after them.
Clue 2: They have eight eyes but very poor eyesight.
Clue 1: They secrete the strongest organic substance on earth.
Answer: Spiders
Did you get the correct answer? How many clues did it take?
You can find Kwizniac online. Make sure to also check out the Kwizniac Facebook page.
Topic: Kwizniac