Disclosure: We received the Typhoon Frenzy Roller Coaster Building Set for review purposes only. All opinions are my own.
My son received several K'Nex sets to review for the Holiday Season. He was ecstatic! He loves building things and putting things together. I, on the other hand, am just not good at it. 😉 This was a job for he and Grandma to do some bonding.
Together, they assembled this K'NEX Typhoon Frenzy Roller Coaster. It is so cool!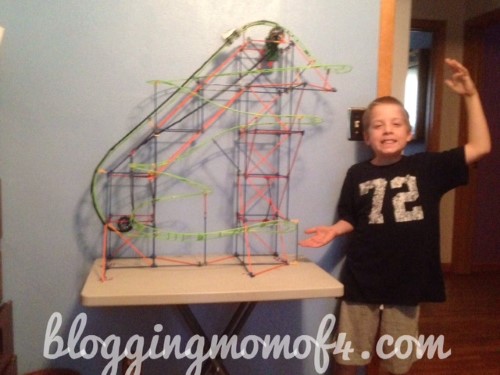 Job well done!!
Typhoon Frenzy Roller Coaster Building Set
Bring a wave of fun from the ocean to your living room with the new Typhoon Frenzy Roller Coaster Building Set from K'NEX! Build with over 640 K'NEX parts & pieces including, rods, connectors and track, and add motorized power to send the silver coaster car twisting and turning through over 19 feet of swirling, non-stop action! Plus, download exclusive instructions to build an incredible second model, the Tsunami Surge™ Coaster! All K'NEX rods and connectors are made in the USA! Ages 9+. Suggested retail price is $39.99. Available exclusively at Toys "R" Us.
Topic: K'NEX Typhoon Frenzy Roller Coaster