Thank you to Teach My for participating as one of our 2016 Spring Product Guide sponsors. Information regarding our Spring Product Guide can be found here.
Summer is right around the corner!! Woohoo! I, for one, can't wait for warmer temps. My kids can't wait for summer vacation. They are working fast to get all of their school work done so they can officially be done for the summer. But what they don't realize is that learning never stops. Right?!
I love to squeeze in learning whenever I can. I especially love when they can have fun while learning. They just seem to absorb more and are able to remember what they've learned.
If you've got a little one starting kindergarten in the fall, now is a great time to start getting them ready. Or build on what you've already started with them. Teach My Kindergartener Learning Kit helps kids master 100 spelling words, counting money, telling time and the year, including days of the week, months, dates, weather and seasons. Plus, it is the 4th kit in the award winning Teach My learning kit series!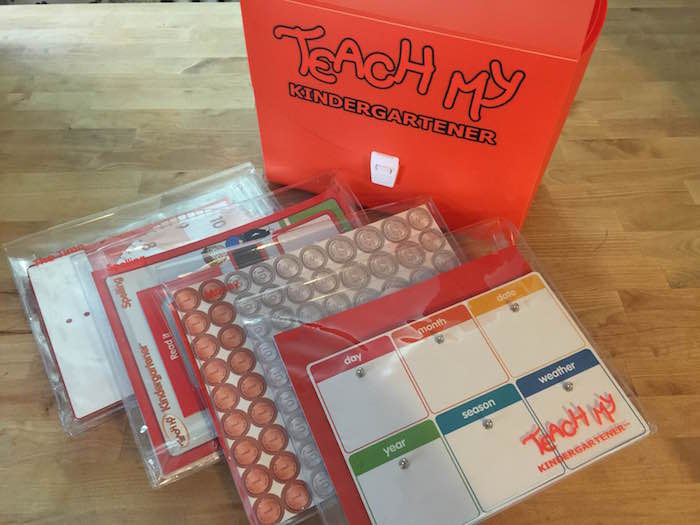 Teach My Kindergartener Learning Kit
I used the Teach My Pre-Schooler Learning Kit and the kids loved it and they learned so much! The Teach My Kindergartener Learning Kit works the same way. It's the newest all-in-one kit designed for kids ages 4 and up.
The kit contains unique and coordinated tools to teach spelling, money, telling time and the year. Your kindergartener can master 100 spelling words, counting money, analog and digital time as well as days of the week, months of the year, dates, years, weather and seasons. Each set in the kit is fully coordinated to encourage matching and repetition. Teach My Kindergartener is designed to be screen-free, one-on-one learning time. The kit aims to promote school readiness and a head start for kindergarten, in just 20 minutes a day.
That is one of the reasons that I like these kits – the time involved. At only 20 minutes, kids don't get bored and they are able to focus on what is in front of them. Whether it's spelling, money, or telling time, the kids are engaged and learning to love learning.
Features:
52 Double-Sided Spelling flashcards (100 Words)
52 Magnetic letter tiles
Wipe-off spelling board
Wallet & play money
Money flashcards
Wipe-off analog clock
Digital time maker
Wipe-off time book
Date maker
70 Date, weather & season cards
Wipe-off calendar book
Teaching guide
Storage case

About Teach My
Teach My are makers of award winning learning tools that help your child get a head start! Our products teach babies, toddlers and preschoolers the basic skills, things like; the alphabet, colors, shapes, numbers, reading and even math! Our aim is to encourage early learning, parent child interaction, self-esteem and help children to develop fine motor skills and excellent hand eye coordination. Bond. Teach. Play… 20 minutes a day!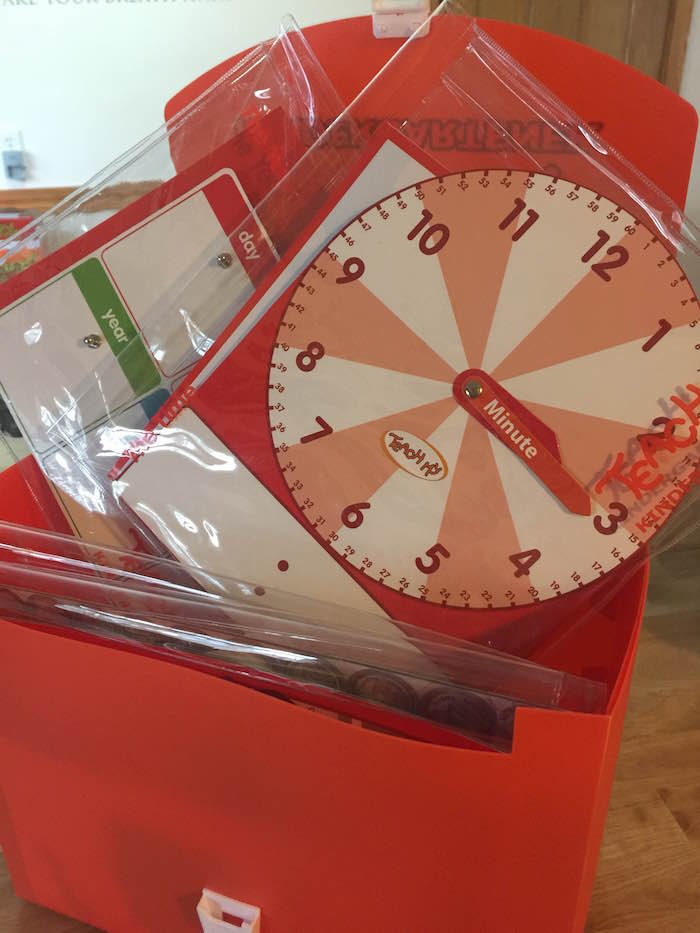 This would also be a great kit to brush up on those skills if you have a Kindergartner going into First grade. They can forget so much over the summer so keep the learning going all year round. Make sure you check out all of the Teach My learning kits and find the perfect one(s) for your kids.