It can be hard to think of unique kids' party ideas, especially if you've done quite a few parties now. Here you will find eight ideas that could help inspire you for the next party, making you the parent of the year.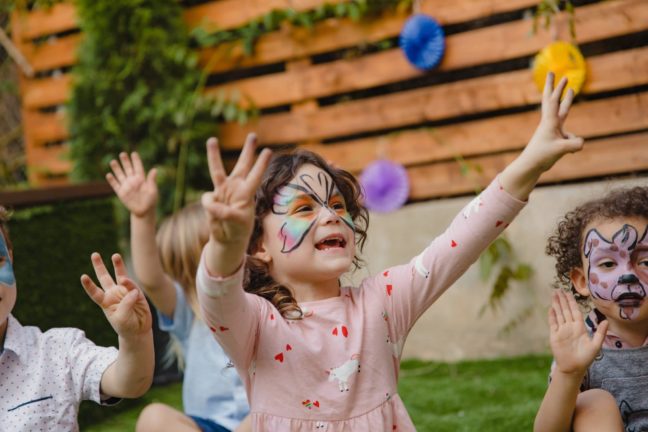 Movie Night
Whilst some kids may not have the patience for movies, they may still enjoy watching short kid-favorite classics with their friends. You can go all out on this concept, creating large batches of popcorn, brewing unique milkshakes, and getting a cheap projector to display the movie on the wall.
Dress Up
Most kids like to dress up, whether that's as their favorite character from a TV show, or just in a costume that looked fun from the store. You should ask the children what they want to dress up as, because if there are some overlapping ideas, then this could help you to create the overall theme, and run wild with it.
Princess Parties
One topic that a lot of children are interested in, comes in the form of a princess party. This is a fun one as there is a lot you can do with it. From sending out glittery invitations to having people come dressed as princesses. You can have this as an afternoon party, who even upgrade it into a sleepover, depending on what you have in mind.
When it comes to the food and drink available, you could look into using edible glitter or sparkly foods in general, such as cakes or doughnuts. The sandwiches themselves can be fancied up for a tea party, to give a more distinguished and modern feel to a party.
If you like the sound of that, then consider looking into these ideas, then you should look into other ways you can explore the princess genre, such as with tea nights, dressing up, making your crown, and more. The possibilities are endless, and the children who attend the party are sure to have a magical time.
Superhero
In the last few years, we've seen a resurgence of children wanting to dress up as superheroes. This is mainly due to the impact that Marvel and DC have had on society in recent years, and it's the reason why many entertainers now specialize in cosplaying as superheroes.
You can play out scenes straight from the comics and movies for the joy of all the children, even getting them involved. There will be lots of things available to buy for parties related to superhero stuff, so keep an eye out.
Pirate
Whilst quite different from the idea of a princess party, a pirate party is another way of having a themed party with similar concepts. Instead of dressing up as a princess, you can all dress up as a pirate. The pirate genre is quite broad, which allows you to truly explore the possibilities of being a pirate.
For example, you can dress up in pirate attire, source rubber hooks, and eye patches as well as makeup that could add facial features. What some people have done with pirate ideas, is to hire out a specialist who has their parrot. They could allow the children at your party to interact with the parrot safely.
Being a pirate also means the children can hunt for treasure. You can have a lot of fun with this, creating your treasure hunt, and creating clues for them to follow around the garden.
Art And Crafts
All kids like to sit and play with crafts and create random stuff, so why not make a party with it? An arts and craft party has the potential to be cheap, whilst maximizing the interest for the children who will keep themselves busy. You could use old newspapers and buy paints for them to mess around with, as well as look into canvases and other crafting material.
Disco And Music
If the children aren't quite into their arts and craft, then you could consider looking into disco and musical activities. This is more likely to be active and can get the children running about the place, which can be a different tone, but a fun one all the same.
There will be a range of music games available, from pass the parcel to musical chairs. Or you could just have some of the kid's favorite music playing, that you can play for them all to dance to, whatever you feel is best.
Beach Party
An idea that is a little bit different from everything else on this list, but just as fun, comes in the shape of a beach party. You may think this is only possible if you live by the beach, but you can do this in your garden, or even in your own home if you're brave enough. All you need is some sand, beach attire, tropical fruit, and maybe even a coconut! You can also consider tailor-made custom inflatables and get all the required decors to provide matching surroundings. Kids love such ideas and will surely be pleased by your creativity. For example, inflatable palm trees, beach balls or maybe a beach themed bouncy house, will provide your kids' fun and crazy time throughout all the day. You can get beach-based games too, such as volleyball or limbo.