There is still summer left but I'm getting excited about fall.. and that means everything pumpkin spice. I'm preparing now with these Keto Pumpkin Cream Cheese Chaffles!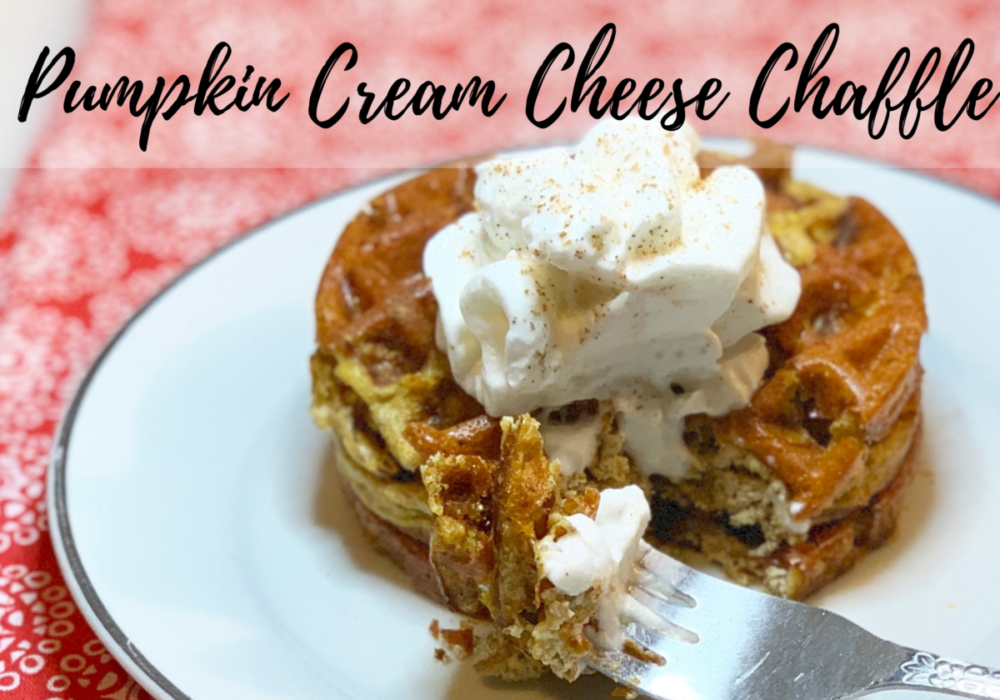 Yes, I am still crazy about chaffles! Everything I'm making lately is in the form of a chaffle. But, I'm telling you, if you are living a low carb life, these are the best thing since sliced bread. Literally! 😉
So far, all of my chaffles start with the basic chaffle recipe. Once you master that recipe, you're good to go. You can go crazy making all sorts of chaffles. I haven't had one turn out bad yet! I'm not a great cook or baker so if I can make these, you can too.
These Pumpkin Cream Cheese Chaffles have the perfect amount of cream cheese and pumpkin spice. I added just a touch of vanilla and confectioners Swerve to sweeten them up a bit.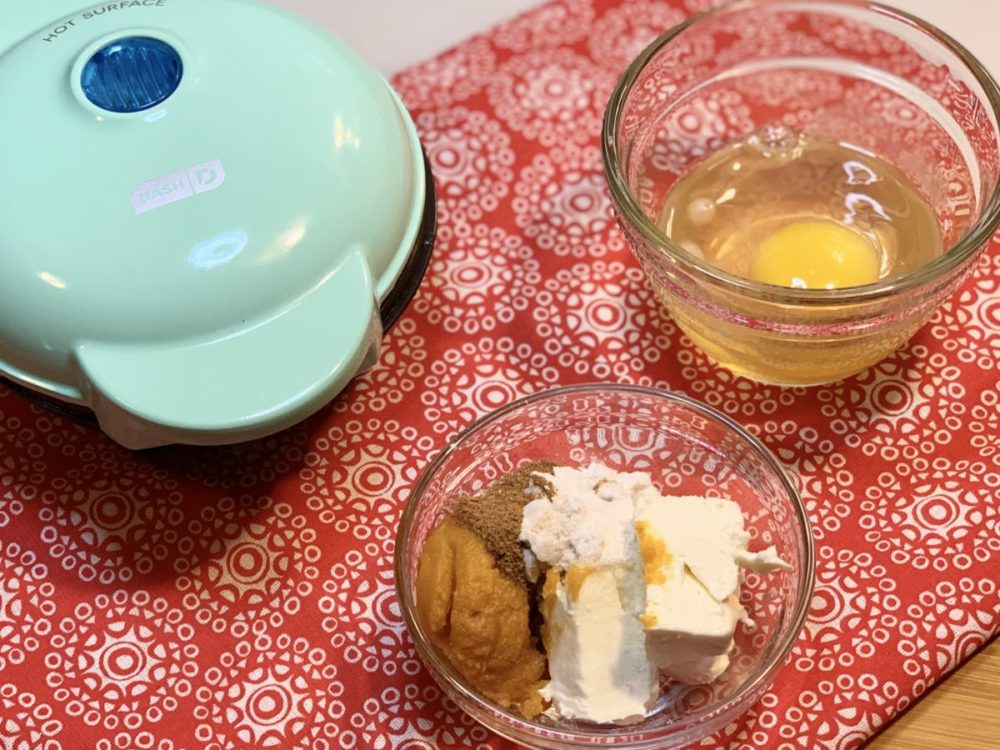 I used a bit of whipped cream on top, sprinkled with just a dusting of pumpkin pie spice. I think cinnamon would be good too. It was delicious!
I also tried just a bit of maple syrup on a couple bites… also amazing!
Here's a couple tips when making your Pumpkin Cream Cheese chaffles. You don't need a lot of shredded cheese on the bottom and top of your waffle maker. Just a very light layer and enough to crisp up the top and bottom of your chaffle. I use whatever shredded cheese I have on hand. So far, I've just used colby jack.
Next tip… do not overfill. I pour on the batter very slowly and then spread it around with a spoon or fork. This helps make sure I'm not overfilling. Trust me.. the mess of overfilling is crazy!
Let me know what you think! Enjoy!
P.S. Want more chaffle recipes? Head over to my Keto category and dig in!
Keto Pumpkin Cream Cheese Chaffles
Pumpkin Cream Cheese Chaffles
Ingredients
1

egg

1

oz

softened cream cheese

1

Tbsp

pumpkin puree

1/2

tsp

vanilla

1

tsp

confectioners Swerve

1

tsp

pumpkin pie spice

Pinch

of baking powder

Shredded cheese

I usually use colby jack
Instructions
Blend cream cheese, egg, pumpkin puree, vanilla, confectioners Swerve, pumpkin pie spice, and baking powder together. (if need be, you can put in a blender but I just combined with a fork).

Following the basic chaffle recipe directions, spread a small amount of shredded cheese on the bottom of your waffle maker.

Pour approximately 2 Tbsp of batter on top of cheese.

Top lightly with more shredded cheese (careful to not overflow).

Cook for 3 minutes and carefully remove to cool.

Top with whip cream and a little pumpkin pie spice or even sugar free syrup.
Recipe Notes
Makes 3-4 Pumpkin Cream Cheese Chaffles.