Are you ready for July 4th? I'm excited for the day of celebration with friends and family!
Today, I got may nails ready too. With a few different polish colors, you can as well! I started this while at the beach so you'll notice that the backgrounds change in the last picture. I used fast dry nail polish so yes, even at the beach you can paint your nails. 😉
July 4th Nail Art
Polish colors:
Red
White (thin brush works best)
Blue
Step 1 for our July 4th Nail Art is to paint the nail bed all red.
Step 2 with the thin white polish, paint stripes. It works good to either lay the brush flat on the nail in the stripe position or lightly drag the brush from cuticle to tip.
Step 3 paint the tips of your nail blue.
Step 4 use the thin white polish again to paint small dots on top of the blue. Or you can use a tooth pick and dip in the white and then use the toothpick to create your dots.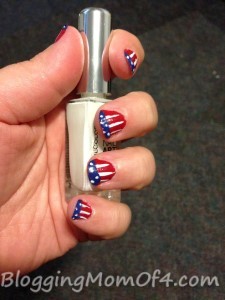 Viola, you have July 4th Nail Art!