If you've already watched Avengers: Age of Ultron, then you have my permission to read this post. If you haven't, for the love of all that's holy, GO SEE IT!! 😉
When I first posted our exclusive Joss Whedon interview, there was a couple parts that I edited out. Why? Well because – SPOILERS!
Now that the movie is out and you've had a chance to see it, I can post about these hush hush parts of the interview. Read on!!!
WARNING SPOILERS BELOW!! 
Joss Whedon Interview – What was edited out!
Joss was talking about Aaron Taylor-Johnson playing Quicksilver and said…
Aaron is too pretty to live, but dealt with the Hemsworth problem, so I can forgive. He's somebody that I just saw even in Kick-Ass where he's playing kind of a weak character he just commands the screen and it was, I think Nowhere Boy, where I just said, oh, this is my guy because he's an old school movie star. He's that commanding and beautiful.
Now, Joss commenting that Aaron is "too pretty to live" is not necessarily a spoiler. Most would just see it for what it is and not have any clue. However, I saw the movie before the interview so I knew that in fact, Quicksilver is too pretty to live. So in the end, I decided to leave it out.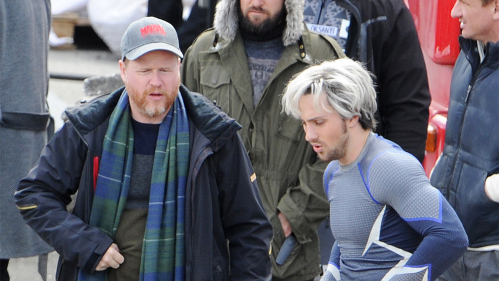 Then that brings us to this… the question was asked if Joss had another version where Quicksilver survives.
We talked about it. My first meeting with Aaron, I said this is my plan is to have, you know but we always were ready for the idea that the Disney brass would come down and say, excuse us. [LAUGHS] Please leave the beautiful man in the franchise movie. Uh, no. But it became clear, certainly after we shot it, how well it worked, so then it was just my job to spend the entire movie trying to convince everyone that Hawkeye was definitely going to die, and that turned into a really fun game.

Because I played every trope. Every, oh, look we're not all going to make it through this and we cut to him looking at his family and I'm just like, how many ways can I be, oh, he's safe. He has to get off the boat. So yeah, that was the plan, but we did sort of keep it in our pockets. We're like maybe we'll have to do a tack backsies, but then he got shot a lot of times.
But is Quicksilver really dead? It's not like we saw a gravestone. We all know what that meals in MARVEL.
He didn't what? Oh, that's true.
So there you have it! You now have the entire Joss Whedon interview, spoilers and all!!