Disclosure: I was sent a John Paul Pet Products Puppy Care Pack for review purposes only.  All opinions are 100% mine.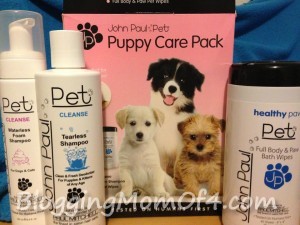 John Paul Pet Products Review
Have you searched high and low for pet products that are safe and gentle for your furry friends?  Look no more! With John Paul pet products, it takes the worry out of whether or not they are safe for your pets.  Every puppy or kitten needs to be groomed.  Along with food, water and exercise, it is one of their basic needs.
From the John Paul pet products line, I was sent the Puppy Care Pack – gentle tearless shampoo, waterless foam shampoo and full body and paw wipes. Each product has its own purpose and benefits:
John Paul Pet's gentle Tearless Shampoo deep cleans sensitive skin and face areas, without burning or irritating eyes, and leaves your pet with a fresh deodorized scent. For young pets that have an adversity to water (especially kittens), our Waterless Foam Shampoo works wonders. This thick, luxurious foam penetrates, deep cleans and deodorizes pet coats. It requires no rinsing and brushes out easily when dry. And, for everyday hygiene care, try Full Body & Paw Wipes, enriched with Lanolin. These convenient wipes clean and deodorize, while helping to remove dirt and bacteria between toes. Plus, your new pets will love how they soothe and moisturize the pads on their feet.
I love the John Paul Pet products. We have 2 dogs and 1 cat and they can always find dirt or messes. We just got a new kitten so I thought the Puppy Care Pack (which is great for Kittens too) would be perfect. It's so nice to have the quality of the John Paul Pet line. I love that we have the option of the waterless foam shampoo too because it's quick and easy to freshen her up.
Take a look at our little cutie:
Check out the entire line of John Paul Pet Products on John Paul's Pet site, Facebook, Twitter and YouTube.
Topic: John Paul Pet Products