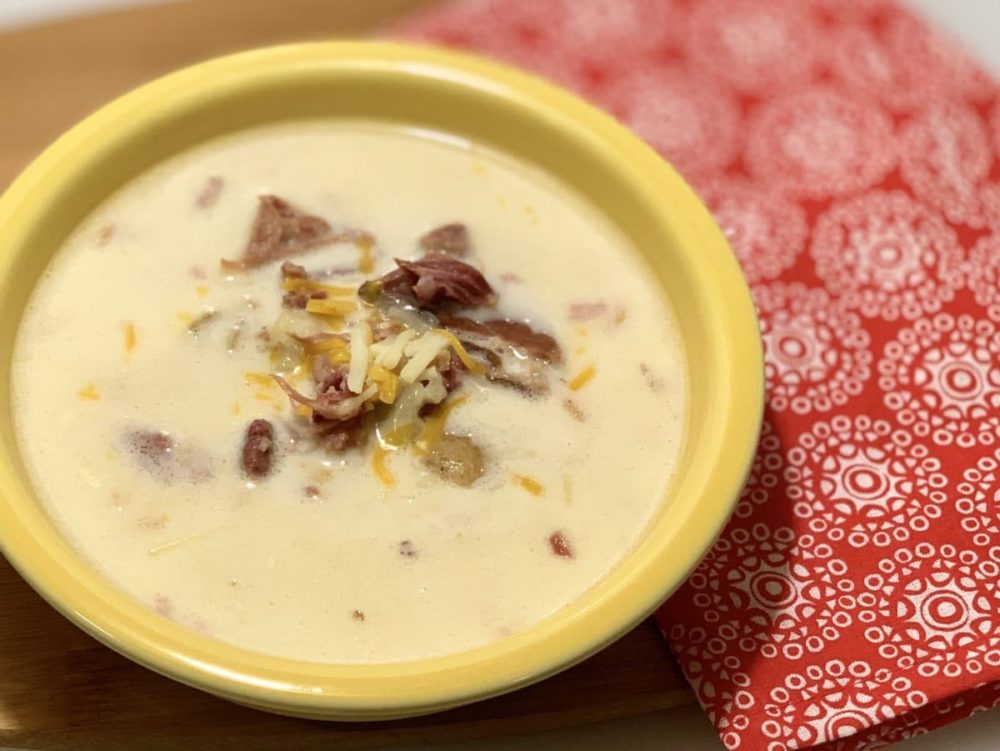 How many of us have ham for Easter dinner? Our family does and we love ham. If you're cooking up a ham for Easter this year, make sure to save the ham bone. This instant pot creamy ham bone soup is so easy to make and delicious. It's hearty and can be customized to your family.
I picked up a spiral cut bone in ham when it was on sale this past week and decided to just cook it up for dinner in the middle of the week. I mean, why not?! Ham is easy to cook and delicious. I made sure to save the ham bone thinking that I'd give it to my mom for her to make pea soup. Then the spring weather turned a bit chilly around here and I decided to make up some ham bone soup myself.
I cut off all of the extra ham from the ham bone and used that in the soup as well since we didn't have a lot of left over ham. This recipe includes diced potatoes, carrots, and shredded cheese for garnish. You could also add bacon, sour cream, onions, celery, etc. Customize for your family and make it a good hearty meal.
I used my instant pot to make it super quick and easy. I love anything I can just dump in my instant pot! If you're adding onions and celery, turn your IP to saute and add a little olive oil to the bottom. Then saute your onions and celery. Cook until the vegetables start to soften. Add garlic and saute for a minute more, stirring constantly. I didn't add onions or celery so I skipped the saute step.
Otherwise, follow the recipe directions and you are all set! In about 30+ minutes (once your IP reaches pressure) you'll have a delicious instant pot creamy ham bone soup. Enjoy!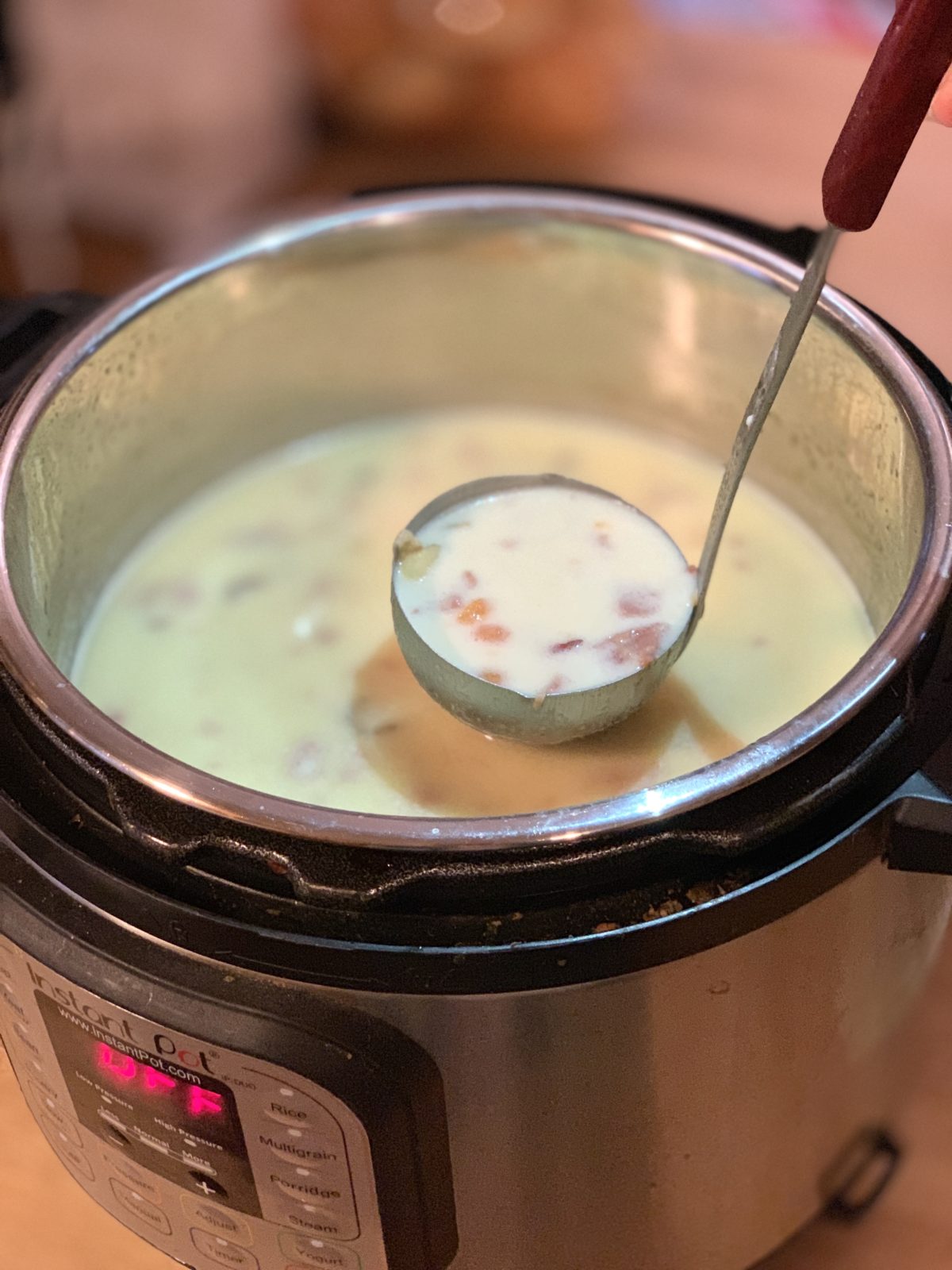 Instant Pot Creamy Ham Bone Soup
Ingredients
2

cloves

garlic

minced

2

medium carrots

peeled and sliced

1

carton chicken broth

2

medium yukon gold potatoes

peeled and diced small

1

ham bone

1-2

cups

chopped ham

1/4

cup

flour

1 1/2

cup

heavy whipping cream

1

cup

cheddar cheese
Instructions
Add garlic, carrots, chicken broth, potatoes, ham bone, and ham to Instant Pot.

Place lid on pot and lock. Turn the steam release to sealing position.

Select manual, high pressure, and set to 20 minutes.

When cooking cycle has finished, let natural pressure release for 5-10 minutes, then manually release pressure. Open and remove ham bone.

Whisk the flour and heavy whipping cream together.

Turn Instant Pot to saute and then whisk flour/cream mixture into the soup until thickens.

Cancel saute function.

Stir in cheese or use as a garnish.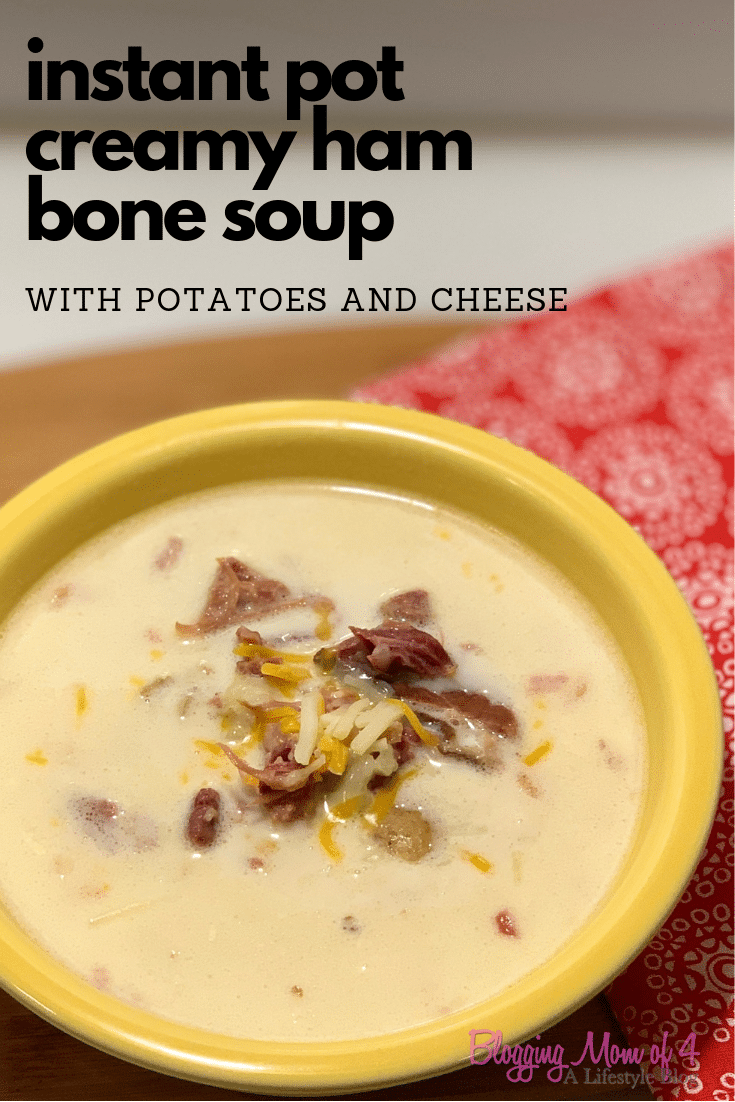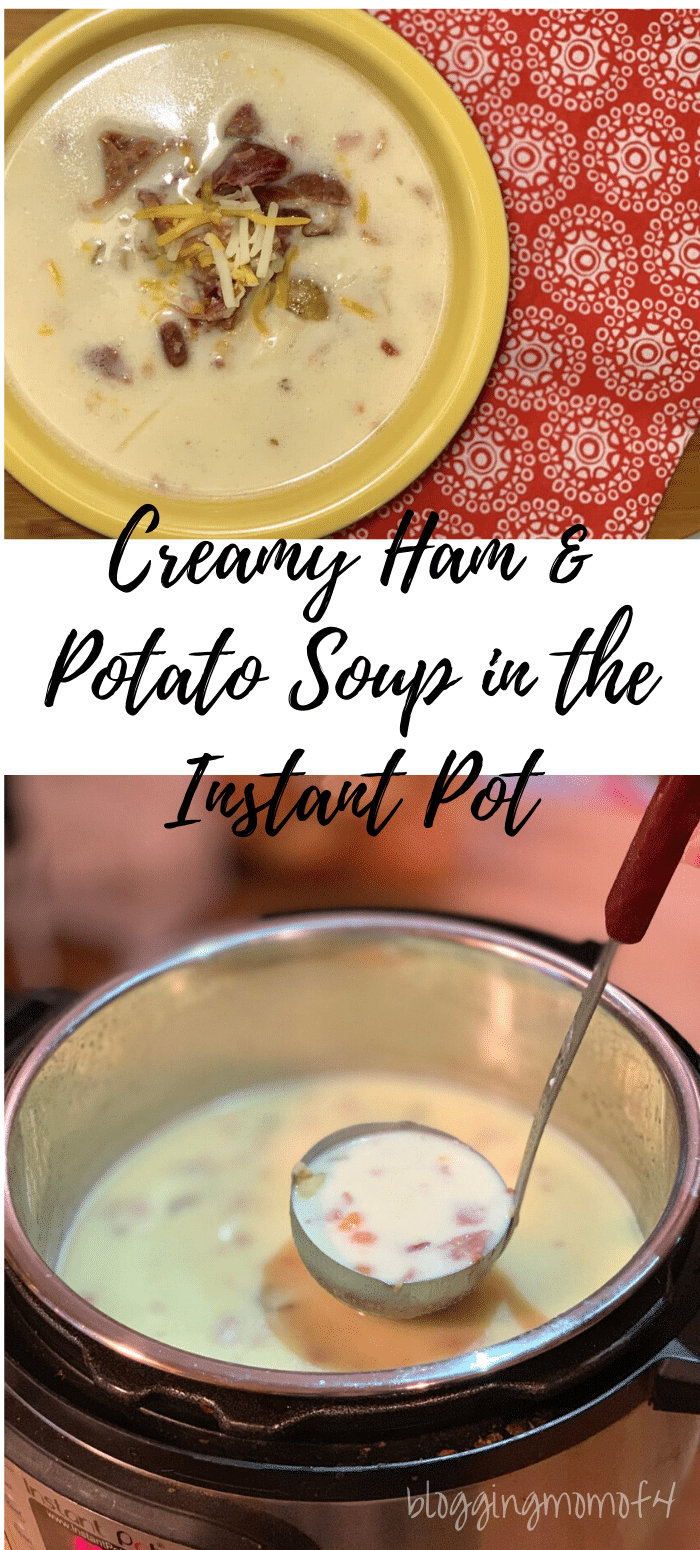 If you love soup, make sure you check out these 20 Fall Soup Recipes. Good anytime. Not just fall. 😉