Disclosure:The reviewer has been compensated in the form of a Best Buy Gift Card and/or received the product/service at a reduced price or for free.
Rock Out With The Insignia Bluetooth Speakers!
If there is one thing I love in life, it's music. And I love (pretty much) all types of music. My playlist consists of rock, pop, country, hip hop, classical, and even a few Disney tracks (for the kids of course ha!). I love to listen to music in the car, while doing chores, and mostly while working. To be honest, I'm listening to music right now! So when I was given the chance to try out the Insignia Bluetooth Speaker and the Insignia Plug In Bluetooth Speaker I was super stoked!
With Insignia Bluetooth Speakers I can take my music anywhere I go and still get great quality sound. What's really cool about it is that the silicone strap and ultra lightweight, compact design can clip virtually anywhere including a backpack, tote, bike, purse, golf bag or belt loop. You really can take it anywhere! My kids even love using it.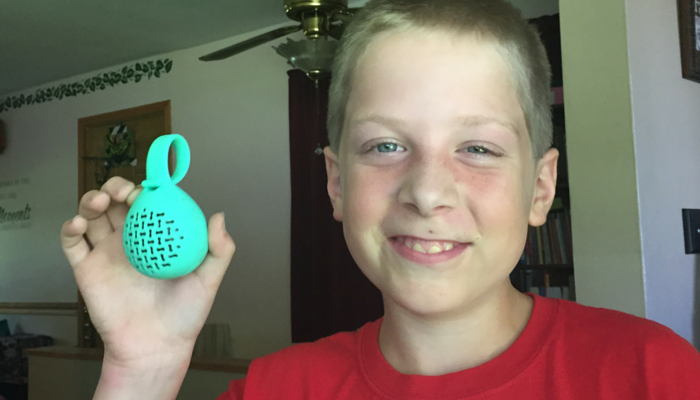 It's powerful enough for the beach, laying by the pool or at an outdoor party and its splash-proof design means you don't have to worry about water, rain or spilled drinks ruining your fun! You can also use it in the car for hands free blutooth speaker phone. Which is fun AND safe!The Rechargeable lithium battery provides up to 6 hours of playback time on a full charge!
With the Insignia Plug In Bluetooth Speaker you can wirelessly stream your favorite audio in any room of your home with this Insignia plug-in Bluetooth speaker. The speaker features a built-in power adapter and rechargeable battery, allowing over 2 hours of playback. I don't know about you, but I hate the look of wires on a wall. The Insignia Plug In BlueTooth Speaker is designed as a wireless audio solution for your home, it plugs directly into your wall outlets – no wires, shelf space or expensive receiver needed! Unlike some other higher priced plug-in Bluetooth speakers, this Insignia speaker does not need to be plugged in at all times to work.  It's sleek, white design blends in to your home and its portability makes it perfect for taking it with you while you're on the go.
Right now you can get 30% off any Insignia Portable Bluetooth Speaker at Best Buy.  So get your music pumping and your rock on no matter where you are  with the Insignia Bluetooth Speaker and the Insignia Plug In Bluetooth Speaker both of which are available at Best Buy!