Thank you to PeachSkinSheets for participating in the 2017 Holiday Product Guide and for helping out with this tutorial on how to make hotel bed corners. 
Pssst… before I get into why I LOVE PeachSkinSheets, take advantage of the December promotion – $55 ALL COLORS, all month long. Use code: SANTA. 
PeachSkinSheets are the softest sheets I have ever slept on! One of my favorite things about them is the 18″ deep pockets that will fit on our memory foam mattress, plus it will also fit custom number and double pillowtop mattresses.
Prices start at $55 and they always have 2 Colors of the Month priced at $55 for any size set.  Their regular sale price is $79.95 for any size set while Split King/Adjustable Bed specialty sizes are $99.95. So, this is a great deal for a high quality product that will last, plus that feels great when you're sleeping.
My latest set is in the beautiful eggplant color. It's really a gorgeous shade. I love it.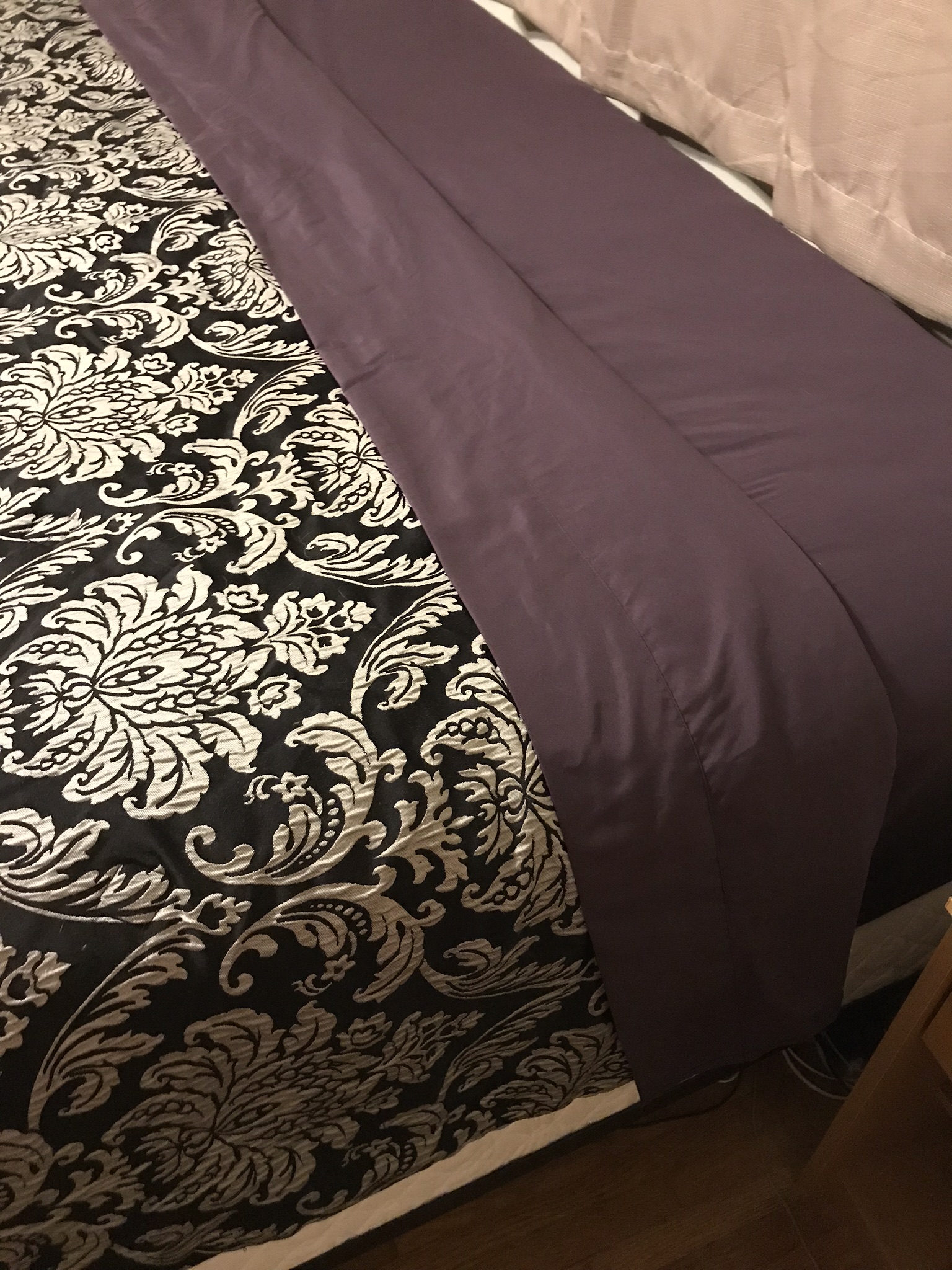 Our oldest daughter just got her first job. She's working in the laundry and housekeeping departments at one of our local hotels. She's really enjoying it. And now, let me tell you, her bed is the best made bed in the entire house. 😉 She loves making her bed using her new bed making skills she learned from the hotel.
So when I got our new PeachSkinSheets, I had Abbie give me a little demo on How to Make Hotel Bed Corners.
PeachSkinSheets makes it super easy because their sheets have wrinkle release that is activated in the dryer on medium to medium/high heat (temperature depends on your dryer) in about 20 minutes after washing.
How To Make Hotel Bed Corners
We started by getting the fitted sheet on first.
Next is adding the top sheet, making sure it's even on both sides and smoothing out. Again, super easy with PeachSkinSheets wrinkle release.
Once you have the top sheet in place, you'll tuck in the extra at the bottom of the bed.
Now for the corners. You're going to grab a corner at the bottom of the sheet while keeping your other hand on the top sheet as shown in the picture below.
Then pull up that corner…
And tuck the 'tail' of the sheet under the mattress.
Smooth down and you're done. Beautiful bed corners. Or some call them hospital corners. I'd prefer to think I'm staying in a hotel. 😀
Add pillows, comforters etc. Isn't the eggplant a beautiful color?
 Now you can rest after a job well done! 😉
About PeachSkinSheets
The Original PeachSkinSheets are GREAT for hot sleepers! Breathable, ultra soft, anti-pill and anti-snag bed sheets featuring thermal control and moisture management properties…warm sleepers stay cool, and cool sleepers stay cozy. The durable athletic grade performance SMART fabric wicks away moisture to keep you drier and more comfortable. Best of all, they have a luxurious 1500 Thread Count softness with a brushed PeachSkin finish on both sides. Available in Split King, Cali King, King, Queen, Full, Twin and XL Dorm Twin and XL Dorm Full.