How to Cook Spaghetti Squash
As long as we're on the topic of how to cook squash, let's also take a look at How To Cook Spaghetti Squash. Spaghetti Squash is a great alternative to any pasta noodle.
Love pasta but don't like the carbs? You should give Spaghetti Squash a try.
Cooking  spaghetti squash is just like any other squash. Depending on the size of your squash, it may just take a bit longer. Here's how to cook spaghetti squash in 4 easy steps.
1. Cut your spaghetti squash in half length wise. This isn't super easy to do so you might need to work at it. Or I have heard that you can put it in the microwave for just a few minutes to soften it up. Then it will cut easier.
2. Scoop out the seeds being careful not to scoop out too much of the inside. (If you like to roast seeds, make sure you save these for later. Separate the seeds from the rest and you can roast them).
3. Lay one half of the squash cut side down on a microwavable plate and cook for 15-20 minutes. Cooking times may vary depending on size. Squash is done with the outside is soft to the touch. Be very careful because it will be super hot! (Also depending on the size of your microwave, you may have to cut off a bit of the ends of the squash to fit inside the microwave).
4. Let the squash cool until you can safely handle it. Score the in sides with a fork to bring out your 'noodles.' Then scoop out the insides.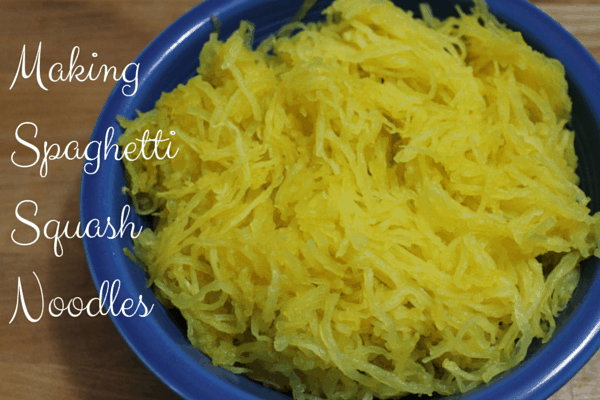 Serve with pasta sauce, spaghetti sauce, butter and parmesan, etc. These are tasty. You can feel like you're eating noodles without piling on the carbs. Yes squash still have carbs but definitely much lower in carbs and calories than pasta.
Enjoy!