Thank you to GoTrax for sending us the Hoverfly Kart for review. The Hoverfly Kart is an accessory which converts most any hoverboard into an electric go-kart. All opinions are our own.
GoTrax Hoverfly Kart
I don't know about you all, but we have some pretty bad spring fever around here. We are watching and waiting for the snow to melt. We've had a lot melt so far but we not only have more left to melt but another snow storm coming our way. This time of year, that's expected. At least we can take solace in knowing that spring is coming. Hopefully sooner rather than later.
In preparation for spring to finally arrive (and to make us feel better while we wait), we got the GoTrax Hoverfly Kart to go with our GoTrax Hoverboard.
The kids could not wait for us to help put it together so they got started without us. And actually ended up putting it together all on their own.
The Hoverfly Kart attachment is easy to put on and take off. You can stand and ride it as a standard Hoverboard or add the Hoverfly Kart and sit and ride.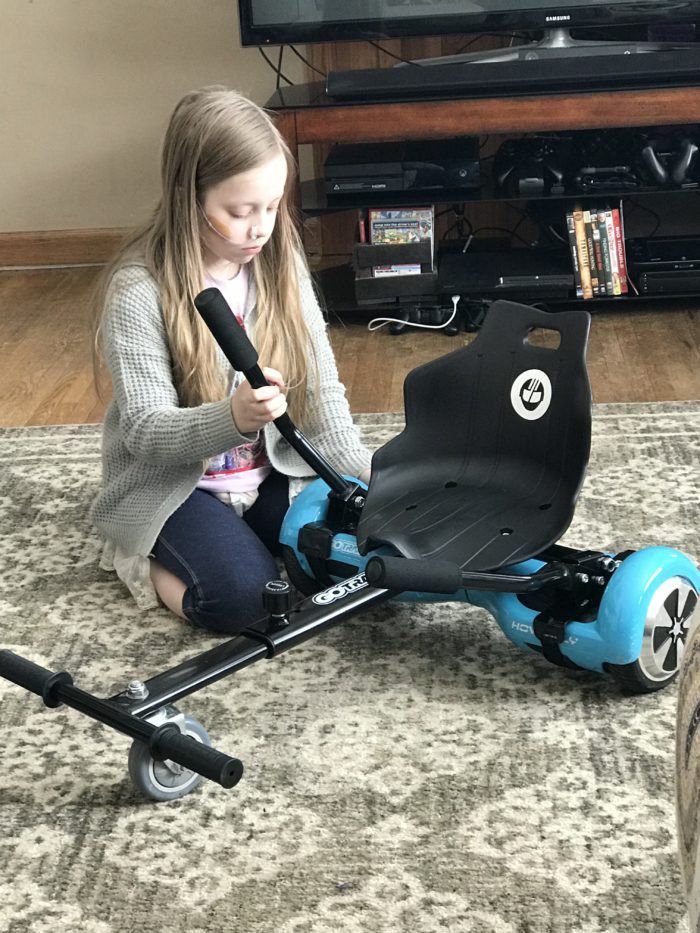 While I do not recommend riding the Hoverfly Kart in the house, I let Faith take a short spin. She deserved it after putting it together.
I DO recommend picking up a helmet with your Hoverfly Kart. When spring finally comes and the kids get outside, they will definitely be wearing a helmet.

There are some great deals over at GoTrax right now.
The HOVERFLY ECO is now only $169, and we've got a discount code for you to bring it down to $164. That's a total of $35 off the $199 MSRP! Enter code save5eco for $5 off HOVERFLY ECO.
The HOVERFLY XL off-road hoverboard is back in stock and we've got an exclusive $20 discount for you, making it $70 off MSRP! Enter code hover20 for $20 off HOVERFLY XL.
One last discount for you! Enter code save10kart for $10 off the HOVERFLY KART.
Want to learn more about the Hoverfly Kart? Take a look:
GOTRAX Shatters World Record for Longest Hoverboard Go-Kart Wheelie
Turn Any Hoverboard into a Go-Kart
HOW TO: Turn Your Hoverboard into a Go-Kart
Hopefully we don't have to wait too much longer to get outside and take our GoTrax Hoverfly Kart for a spin!