Do you make your own Homemade Laundry Detergent?
I am always washing clothes. I think that's just how it's going to be with six people in our family. And even more so during the winter months. Wow, I miss summer for so many reasons and one of those reasons is definitely my laundry. Yikes.
Winter means heavier clothes and multiple layers. And with bulkier clothes, not as much fits in the machines so I'm doing that many more loads. Aye Aye Aye.
Washing that much means a lot of laundry Detergent. Thankfully I started making my own Homemade Laundry Detergent. This is a very easy DIY. My mom made me a couple jars of liquid laundry detergent. That works really well but I found that you can just use it dry and save a lot of time making it up. When I ran out of the liquid, I made this dry batch. It's very easy.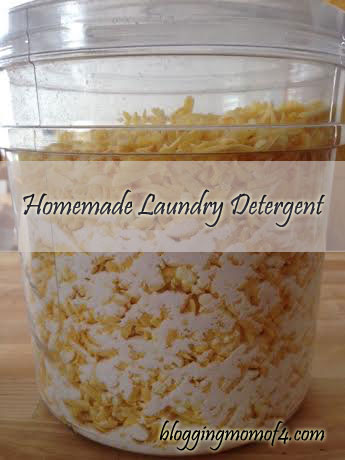 I also had a friend tell me that she uses a fabric refresher, like Gain scent booster. It really adds to the detergent and gives the clothes a nice fresh scent. It's great!
Here's the ingredients and instructions on how I made my Homemade Laundry Detergent.
Homemade Laundry Detergent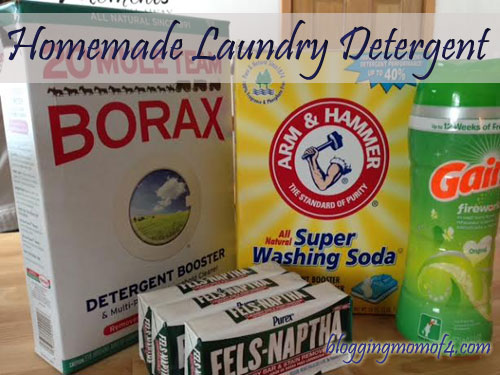 Ingredients
1 C Borax
1 C Super Washing Soda
1 Bar Fels-Naptha (grated)
1 Cap full Gain scent booster (cup that comes with the product – use more or less to your preference)
Instructions
Grate up the Fels-Naptha bar. Using a cheese grater is very easy. You can have your kids help, just make sure that they stop when the bar gets low so they don't scrape their fingers.
Add all ingredients into a container – ice cream pail for example. I made up a bigger batch and used x4 for all ingredients.
Mix up well.
Use 1 Tbsp per load of laundry. If you have a giant size washing machine, you may want to use more. My washer holds 3x the loads so I use 3 Tbsp per load.
I try to make sure I have all ingredients on my spoon when I scoop it in. So far doing it this way has worked out great. The laundry gets nice and clean and smells great! This is so much cheaper than buying laundry detergent.
All ingredients can be found close to each other in the laundry detergent aisle. I picked up everything at our local Walmart. You can also find everything on Amazon:
Although make sure to check prices because I was able to buy it cheaper in store.
Good luck with your Homemade Laundry Detergent!