Thank you to HomeZada for sponsoring our post on Home Maintenance Checklist. All opinions are our own.
One of your largest and most important purchases will be your home. It's what provides shelter for your family and where your family will grow and flourish. HomeZada is a company that will help you digitally manage your home by letting you have all your home data at your fingertips. Including a home maintenance checklist.
I don't know about you but I'm not that handy. I don't know when to do home maintenance or even how to do many of those tasks. Thankfully HomeZada has me covered!
Getting Started with HomeZada
HomeZada is a very intuitive site that super easy to use. From the moment you create an account, the program walks you through step by step. It even auto-populates some of the most common fixed assets to save you time.
Everything you need can be found on your HomeZada Dashboard. I easily set up my account and then took the quick tour.
The first tab I looked into was the maintenance tab. No more guessing what needs to be done, when, and how to complete it. HomeZada keeps a full running Home Maintenance Checklist for you.
Not only do they keep a Home Maintenance schedule and checklist for you, they also provide helpful information on how to complete each task. For example, it already feels like winter here and we even have snow on the ground. Going by the already low temps and last year as an indicator, I'd say we need to prepare now for ice dams. Ice dams can wreak havoc on your roof and gutters so it's important to keep them in check. No clue how to do that? HomeZada has a "how to" all set for you.
So awesome!
What else does HomeZada monitor?
Improvement Projects
Plan and budget for home renovations using HomeZada. Easily keep records for tax and resale purposes.
Automated Home Maintenance Schedule
Use HomeZada's preventative maintenance schedule to save on utility bills and avoid repair costs. I like the task feature because it tracks all the small fix-it projects that creep up around the house. On-screen reports and dashboards keep all the details in one spot and summarize annual and monthly preventative and repair costs.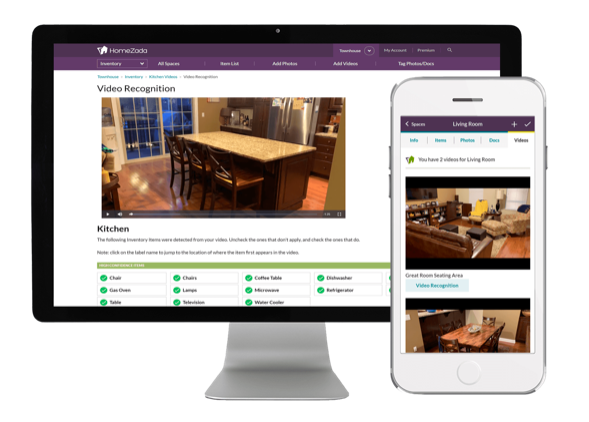 Inventory
HomeZada starts with a template so all you have to do is take images of your inventory, room by room and upload it. Having it all in one place will help you estimate the value of your inventory so that you can be properly insured. Sometimes we don't think about certain items or how much they could be worth so we don't count it. Digital home management will help you change all that.
Go ahead and take a video of your rooms and upload to HomeZada. Their advanced recognition A.I. technology automatically detects inventory item objects in the video.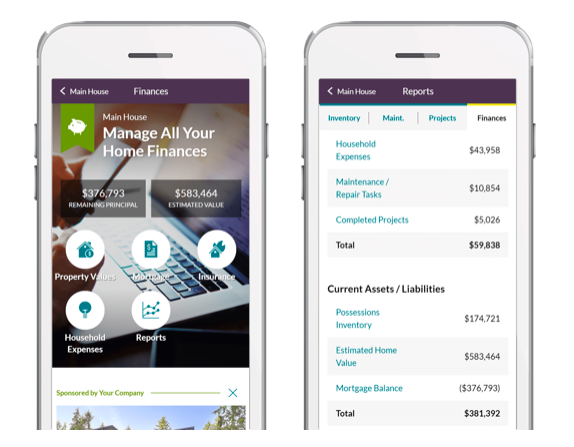 Finances
Stay in control and analyze asset values and cost of home ownership with multiple dashboards and reports. Stay current on your home's value and equity with budgeting for home related expenses.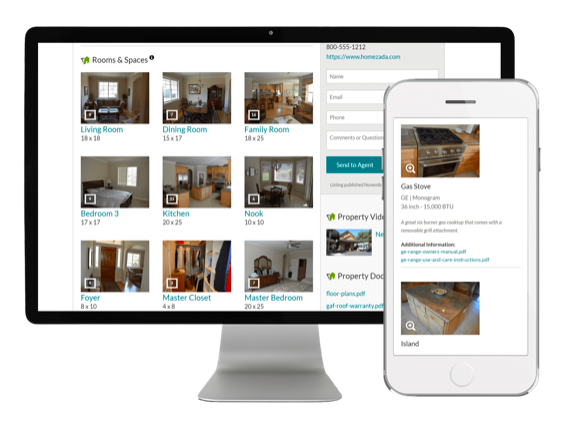 Market
This is really helpful if you want to get an idea of what your house would sell for if you wanted to put it on the market. Using real time current data, get a market comparable analysis report that assesses recent sales, current listings, and sales history near your home. Just note that this report does have a small fee associated with it.
If you do decide to put your home on the market you can easily publish a Zada File as an online brochure of your home that displays unlimited photos of your rooms and features that you choose. You can also include property documents such as inspection reports, owner's manuals, or any other important info about your home.
I love the convenience of HomeZada's multiple templates and reports. How easy they make it to keep track of everything home management related.
About the Company
We believe that a home is most people's largest asset, and we are inspired to provide a safe, reliable, and effective online and mobile solution that helps people save money and time when managing, selling or buying a home.

HomeZada is here to make home management easy so you can enjoy your life!
HomeZada has an online (and mobile app) free or paid version. I am using the paid version which is only $59 per year. Well worth having all of this information including a Home Maintenance Checklist all in one place. Check it out… get it for your own home or even give as a gift. It'd be an amazing gift to give to a new homeowner first starting out.