I am a member of DVD Netflix's DVD Nation, which gives me free access to movies. If you sign up with my referral link, I may receive a referral award. #DVDNation #ad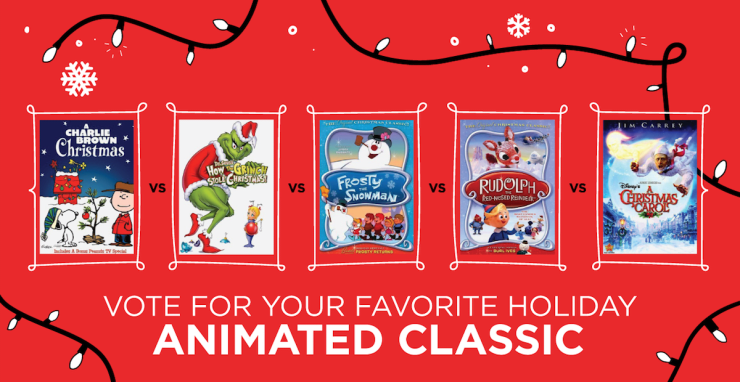 Let's take a moment to chat Holiday Movies.
What are you favorites? Have you had a chance to vote in DVD Netflix's Holiday Movie poll? It changes each week so make sure you come back each week to place your vote.
Vote now and grab your entry in the Giveaway widget below!
This week, we have some animated classics. Can you pick just one favorite from the bunch? It's really hard for me to pick just one. I mean, A Charlie Brown Christmas is a staple. That's one that you have to watch every year.
But then there's How the Grinch Stole Christmas with little Miss Cindy Lou Who. Plus, Frosty the Snowman and Rudolph the Red Nosed Reindeer are must sees every year. Not to leave out Disney's A Christmas Carol. They're all great! Good thing you can add as many Holiday Movies as you want to your DVD.com Netflix queue and watch them all.
What's your pick from the animated classics above? How about favorite it Holiday movie in general? Ok, and one last burning question…. which side are you on – is Die Hard a Holiday movie? I mean, it does take place over the Holidays.
Oh… did I forget to mention that you could also WIN a $100 DVD Netflix Gift Card??! We've teamed up with DVD.com and have (3) gift cards to giveaway.
If you have not had a chance to get subscribed to Netflix and DVD Netflix, you are missing out. We have all the entertainment we need between the both. With our DVD Netflix plan, we can have 2 movies out at a time. If I don't have time to watch a DVD for awhile, no worries. I keep it as long as I want. As soon as I watch it, I send it back and the next movie in my queue gets automatically sent out. And I can update my queue easily from the DVD Netflix App.
Ok, now for the giveaway! Giveaway will run through 12/25. Good luck!
Enter to WIN a $100 DVD Netflix Gift Card – 3 Winners!