I am a HUGE Grey's Anatomy fan. I've been there through every season,  laughing and crying. Well mostly crying. This show is always so intense. Love it! Are you a fan?
Here's a bit about Grey's Anatomy
Grey's Anatomy is the recipient of the 2007 Golden Globe® Award for Best Television Series – Drama, and multiple Emmy nominations, including two for Outstanding Drama Series.

The doctors of Grey Sloan Memorial Hospital deal with life-or-death consequences on a daily basis-it's in one another that they find comfort, friendship and, at times, more than friendship. Together they're discovering that neither medicine nor relationships can be defined in black and white. Real life only comes in shades of grey.
While in LA for a Disney press trip, we also got to visit some of the hit ABC TV shows. Including Grey's Anatomy. Oh my goodness, it was so incredible to actually walk through the set. Now when I watch an episode, I can actually picture being right there where they're filming. Just incredible!
We also got to meet some of the amazing cast of Grey's Anatomy. Jessica Capshaw was our set tour guide. I love her character on the show, Arizona. Jessica is amazing. She is a mom, just like the rest of us moms. She juggles multiple things including her career. I love that she always strives to be as hands on with her kids as she can.
Sarah Drew (Dr. April Kepner) was also on hand to chat. She is an absolute delight! I'm excited to watch her new movie, "Mom's Night Out." It looks so funny and I'm definitely a fan of Sarah and co-star from Mom's Night Out Patricia Heaton.
I was a bit fan crazed when I was talking with Sarah. All I could talk about was how excited I was to see April and Jackson together! YAY! Anyone else super excited that they're finally together??
As you'll see in my pictures, Justin Chambers (Dr. Alex Karev) and Camilla Luddington (Dr. Jo Wilson) popped in to say hi!
We also got insider info on how they put together all of the amazing props and even got to check out some amazing dresses that were worn in a couple of the episodes. Props Master Angela Whiting (@GreysProps) and Costume Designer Mimi Melgaard (@MimiMelgaard) were there to walk us through everything that they do. Which is a ton. We actually got to see a beating heart. Prop of course!
Fun, fun, fun!!
One of my favorite pics is this one of the post it note. Remember? The picture I took was a bit blurry so Dawn from The Frugal Mom, let me use hers.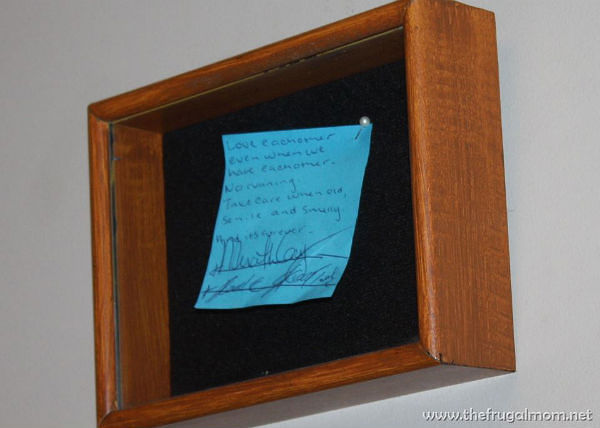 I've uploaded all of my pictures below. Hope you enjoy!
Grey's Anatomy is on ABC on Thursdays 9/8CST.
Topic: Grey's Anatomy #ABCTVEvent