Sam's Club Mom's & Dad's Club
Sam's Club, a leader in warehouse retail clubs, knows how challenging it is to be a parent today. Sam's Club is here to help! As a Sam's Club member you will save time and money shopping for the products and services you and your family need.
Now, as an added bonus for their members, Sam's Club has introduced their Mom's & Dad's Club, an exclusive online destination where parents can learn more and save.
Become a member of this online destination and get access to exclusive content, offers and rewards that will make your job as a parent easier.
Mom's and Dad's Club members have special access to prizes, sweepstakes!!
LIKE THIS ONE!!
Enter to win a Fun With Mom or Fun With Dad Bundle from IncrediBundles.com!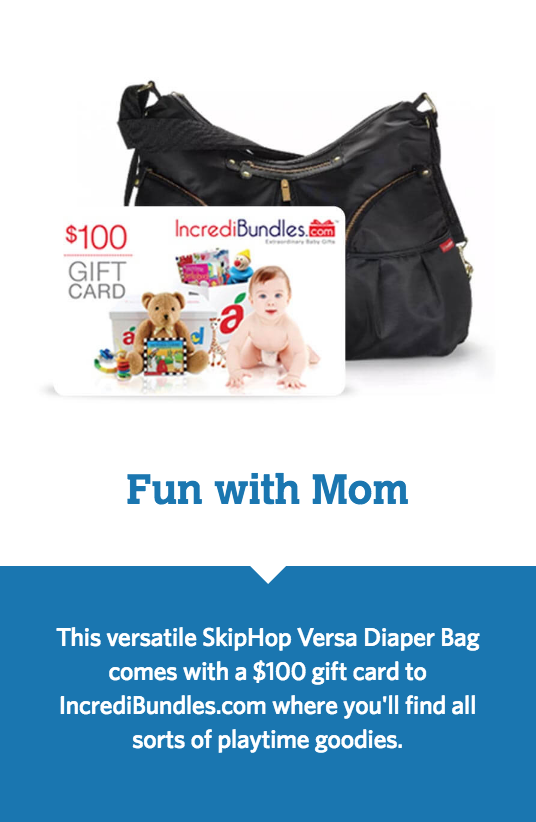 Each of these amazing bundles features a premium diaper bag and a $100 gift card to IncrediBundles.com!
If you win, you will choose between the premium DadGear Diaper Backpack or the sleek and versatile SkipHop Versa Diaper Bag. Each bag is bundled with a $100 gift card to IncrediBundles.com. Shop their carefully curated selection of toys, books and products for children.
What Might You Buy With Your Gift Card?
Buying for children can be overwhelming with so much to choose from! Here are some of our recommendations:
Infants Under 1
Bright stim toys that clip to strollers and carseats and feature a variety of textures for exploring little hands
Teethers and rattles made from natural materials and colored with food-grade dyes
Loads of books for baby, especially sturdy board books with touch-and- feel panels, bright illustrations and simple stories.
1 & Year Olds
Stock up on toys that allow for open-ended play like balls and blocks
Toddler-friendly musical instruments like bells, shakers and simple drums
Lots and lots of books, especially those with repetition and rhyme, basic stories and friendly illustrations
Preschoolers
Games that allow children to learn as they play
Craft kits that exercise a child's fine motor skills and creativity
How to Enter
All you need to do is click on this link and it will take you there —>  Mom's & Dad's Club Sweepstakes
Good luck!!