Disclosure:I participated in an Ambassador Activation on behalf of Influence Central for Gevalia Kaffe. I received product samples to facilitate my review as well as a promotional item to thank me for my participation. #IC (ad)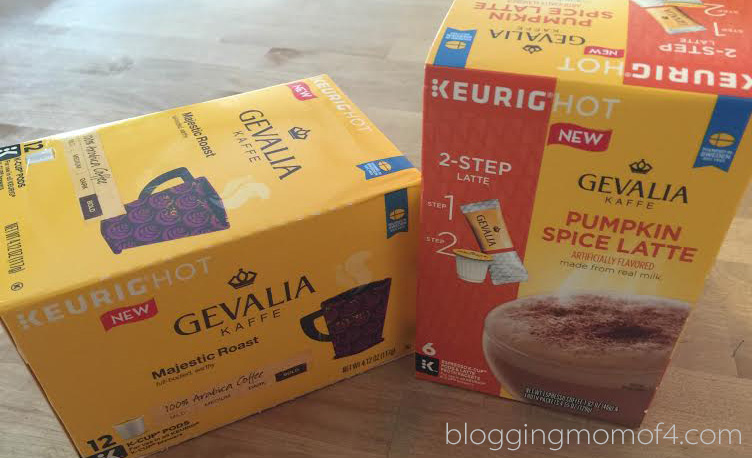 Gevalia Kaffe
My Keurig is my best friend and has saved me from many a late night of writing. I find that it's more difficult to string words together into a coherent thought without caffeine. Gevalia has me covered when it comes to filling my cup.
I can have all the Fall deliciousness that I would get at a coffeehouse, but I don't have to take off my slippers. You want to know how? It's an easy 2-step Gevalia Kaffe Pumpkin Spice Latte. It's made with real milk and combines the flavor of pumpkin spice latte froth with Gevalia's never bitter Espresso coffee.
First step: pour froth packet in your mug. Second Step: Brew in your Keurig K-cup brewer. That's it! Just as frothy as the coffee place down the street, but I stay out of the cold weather. Plus, when my friends come to visit, we just sit down on the couch and enjoy the conversation and coffee without the hassle of a crowd. Sounds good, right? Gevalia Kaffe Pumpkin Spice Latte is available in 12 oz. Roast and Ground bags and K-cup pods.
On the Fall days when I'm busy working, I like to grab my laptop and set up outside. Maybe not when it's in the 40s, but when it's just a little bit cooler. I'll make a cup of Gevalia Kaffe Bold Majestic Roast with a little touch of homemade creamer and enjoy the dark, smooth, earthy cocoa flavors. It's a great way to start my day. Gevalia Kaffe Bold Majestic Roast is available in 12 oz. Roast and Ground bags and K-cup pods.
About Gevalia
We offer over 30 premium coffees, from intense dark roasts to exotic varietals, all selected by expert coffee buyers, then slow roasted to full-bodied perfection.

From the slopes of Mount Hualalai, Hawaii, searching for the perfect velvety-smooth Kona, all the way to the Malabar coast of India to find a crop of full-bodied Indian Malabar with accents of honey and clove, we travel the globe in search of all the best beans to call our own.

We could go on. But even if you don't care at all about the origins of our coffee, you can be sure we'll always deliver a taste that's rich, never bitter.
Want more info on Gevalia Coffee?
Website: www.GevaliaExperience.com
Facebook www.Facebook.com/GevaliaCoffee
Twitter @Gevalia
Instagram @GevaliaKaffe
How do you take your coffee in the morning?