Disclosure: I was sent 2 copies of Getting Organized Magazine for review purposes only. All opinions are my own.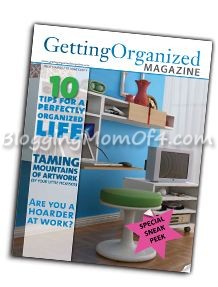 Getting Organized
Do you struggle with organization? I sure do. With 4 kids running around the house ALL the time, I feel like my house is always a mess. Well probably because it is! 😉
I love the saying that cleaning while your kids are home is like brushing your teeth while eating Oreos. So true. And my kids are home all of the time. We homeschool…I wouldn't have it any other way…but that means that they are home most of the time. And being in Wisconsin, the winters here seem to last forever. Which means that in the winter months, they are indoors more than outdoors.
So you get my point…trying to clean while they are around seems futile!
I love organizing tips…ideas to help me on the path to staying and getting organized. When Getting Organized Magazine offered to send me a couple copies of their magazine, I said, yes, please do!! 🙂 The magazines are great! They come quarterly so that you have time between each one to actually read and then implement the ideas. Which I find is a great idea otherwise, I'm just trying to find a way to organize all those monthly magazine subscriptions that I never have time to read. You too?
So if you'd like some tips on Getting Organized, check out Getting Organized Magazine!
Getting Organized Magazine
A little about Getting Organized Magazine from their website.
By providing simple, effective, how-to organizing ideas and products, Getting Organized Magazine is the go-to resource for those looking to organize your home or workspace. It is the only magazine on the market today solely dedicated to helping people organize their lives.  This comprehensive, easy to read magazine covers a wide variety of topics and we strive to make the process fun and easy.  From the closet in your home, to the endless emails at work to the greatest mobile apps available, we have it covered.  You'll get previews of the latest products, tips on how to conquer your paper piles, advice on issues like attention deficit disorder (ADD) and much more.
Topic: Getting Organized