Disclosure: This shop has been compensated by Collective Bias, Inc. and its advertiser. All opinions are mine alone. @MyGameband @Minecraft @Target #GameOnTheGo #CollectiveBias #Ad
Do you have a child that is Minecraft crazy? I have a few of them myself. I found the perfect gift for my Minecraft fans! With the Gameband, they can take Minecraft wherever they go. They will now have portable Minecraft.
Portable Minecraft with the Gameband
As my kids get older and older each year, I have a tougher time finding gifts for them. I should specify… they fill up their Christmas wish lists, they have plenty of things they want, but everything on them has a big dollar tag. With 4 kids, I just can't afford to buy them all those big dollar items.
The Gameband is the best of both worlds. It's something they will definitely use, will enjoy and does not have a huge price tag. Because I wanted to let you in on my awesome find, I actually gave Caleb an early Christmas present so we could open it up, try it out and give you the deets.
Gameband is a hot commodity so you might have to call ahead and see if your store carries it or has it in stock. I was able to find ours at Target. Here's the thing. If you don't find it on the shelves, ASK an associate where it is. Typically you'd find them somewhere in the Computer Gaming aisle or near the iTunes gift cards.
I'm not one to always ask for help but after roaming around all of the electronics aisles not finding any Gamebands, I asked at the counter. Our store did not actually have them out on the shelf but in the back room. So just ask if you're not finding it right away or ask right away and save some time.
I'm usually a last minute shopper but this is one gift that you'll want to get now vs waiting. Of course being able to give this as a Christmas gift is perfect but Gameband would be a great gift for any occasion.
Caleb was so thrilled to get his Gameband.
Setting it up is very easy. There are simple quick start instructions included. All you need to do is plug in the Gameband into your computer. Then click on the Gameband icon on your desktop. Follow the directions, log in and play! Minecraft was already loaded on my computer so that made things even easier. It started downloading and saving all of Caleb's Minecraft data.
Caleb also played with the customization. He was very excited about that and I think will probably change it up often. All of the customization settings are under PixelFurnace icon.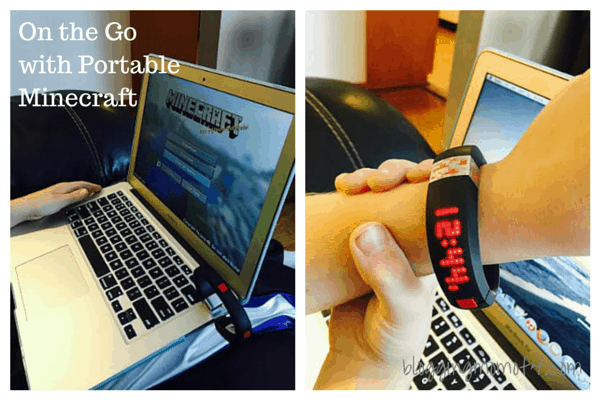 Then it was time for mama to take back her computer, so Caleb ejected the Gameband and went off to the other computer. First he had to stop and show his new Gameband to his sister. 😉
I love that the Gameband has so many features and that Caleb can customize it however he'd like. Having the time on it is awesome. Caleb doesn't wear a watch so this is perfect. I wonder if I could sneak it away from him and customize my own message to him. That'd be fun!
Take a look at how easy it is to set up Gameband and start using:
And for extra fun, checkout this unboxing video:
Gameband Minecraft™ is the first-ever Minecraft wearable. If you have a Minecraft fan, this definitely should be on their Christmas list. They'll love it!
Side note: Gameband belongs to Now Computing and is affiliated with Minecraft. If anyone has any feedback regarding Gameband, they should reach out to Now Computing.