Disclosure: I received product from Puritan's Pride for review purposes only. All opinions are my own.
The New Year is just around the corner and with the New Year comes New Years resolutions. Are you making any this year? It seems like a lot of resolutions tend to do with getting healthy and losing weight. Maybe you even have a resolution to do both.
Puritan's Pride manufactures some of the best products to help you with these resolutions. If you're just looking for great vitamin supplements or maybe looking for something to help with weight loss, Puritan's Pride can help!
Puritan's Pride
Puritan's Pride® began over 40 years ago, with the mission of making the finest quality nutritional supplements available at the best value to their customers. Today, the company remains true to its original commitment and serves millions of loyal customers. Puritan's Pride manufactures thousands of vitamins, minerals, herbs and other nutritional supplements in their state-of-the art facilities located throughout the U.S. As part of the company's commitment to quality, Puritan's Pride only uses ingredients from suppliers worldwide that meet their Quality Assurance Standards, as well as Good Manufacturing Practices food quality standards.
With Puritan's Pride being the manufacturer of their own products, you get the best price. They don't have to charge more for dealing with the middle man. Plus, Puritan's Pride has a full 1 year satisfaction guarantee policy. If you are not happy with products purchased or if they do not meet your expectations, just return the unused portion and you will be credited for that unused portion. What could be better than that? Try it out and if it's not what you expected, you get a refund.
I've heard a ton lately about Garcinia Cambogia. Several big Hollywood names have said that it helps with weight loss. I'm not a great pill taker but I wanted to try it. Puritan's Pride sent me a bottle of the Super Citrimax® Garcinia Cambogia.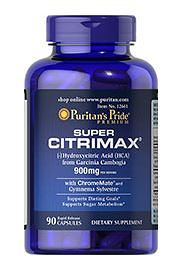 Super Citrimax® Garcinia Cambogia Info
Garcinia Cambogia Used in conjunction with a reduced calorie diet and daily exercise program, Garcinia Cambogia can support your dieting goals.*

Garcinia Cambogia is a small, pumpkin-shaped fruit with a hard, yellow-green rind and a pulpy interior that is grown in Southwest Asia. With its tart flavor, Garcinia is a popular ingredient in local cuisine, including some chutneys and curries. The fruit has also been used in traditional Ayurvedic wellness practices in India for hundreds of years.

The rind of the Garcinia Cambogia fruit contains the ingredient Hydroxycitric Acid (HCA).

Considered Garcinia's "active compound," HCA has been shown to interact with the bioactive energy factors of the cell and is gaining in popularity as a natural supplement to a healthy lifestyle.

*These statements have not been evaluated by the Food and Drug Administration. These products are not intended to diagnose, treat, cure or prevent any disease
It's recommended that you take 2 pills 1/2 hour to 1 hour before breakfast and lunch. Then take 3 pills 1/2 hour – 1 hour before dinner. Again, I am so bad at remembering to take pills. I think because I didn't always remember to take them as recommended, I did not see great results. However, I did notice that I felt good while taking them, I wasn't jittery or have any other unusual side effects that you might have with other 'diet' pills.
I am no way a medical professional, just giving my opinion and experience with the product. You can choose for yourself whether or not to try it.
You can find Puritan's Pride:
FB: https://www.facebook.com/puritanspridevitamins
Twitter: @purtianspride
Good luck with all of your New Years resolutions!