This is a Sponsored post written by me on behalf of Vectra flea & tick control for SocialSpark. All opinions are 100% mine.
I, for one, can not WAIT for spring and summer to be here. Winter in Wisconsin has lasted way too long!! But with warmer weather comes new issues. Like unwanted little creatures. Especially if you have pets. Flea and tick season is coming!
We have two dogs. A Golden Retriever named Lily and a little Pomeranian, Chihuahua mix named Rosie. Both are going to need something for flea and tick control. Something like Vectra.
Flea and Tick Season is Coming, Prepare with Vectra
Vectra is fast-acting and kills through contact so parasites don't have to bite to die. It begins reducing flea feeding in 5 minutes and kills fleas in 6 hours. Vectra has broad spectrum protection so it repels and kills fleas, ticks, mosquitoes, biting and sand flies, lice and mites (excluding mange mites). It is also long-lasting and protects for 1 month. Vectra is convenient and easy to use and it can also be used on puppies as young as 7 weeks. You can get Vectra right from your Vet.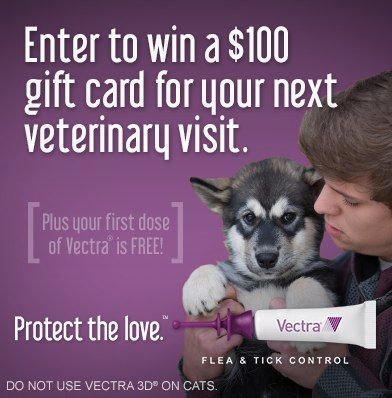 Right now Vectra has a great sweepstakes: Enter Vectra's Protect the love Facebook Sweepstakes for a $100 gift card to use at your next veterinarian visit. A gift card will be rewarded each week for the duration of the Sweepstakes.
Each entrant to the Protect the love Sweepstakes can also claim a free dose of Vectra flea & tick control. Users can print out a coupon for a free dose to redeem at a Vectra veterinarian near them. All readers need to do is enter the sweepstakes, then visit FirstDoseFree.com and fill out the form.
Be sure to like Vectra on Facebook and follow @VectraPet on Twitter.
Protect the love™ is the official social identity of Vectra flea & tick control. Vectra is a product of Ceva Animal Health, LLC and has multiple formulas for dogs, cats, puppies and kittens. *DO NOT USE VECTRA 3D ON CATS