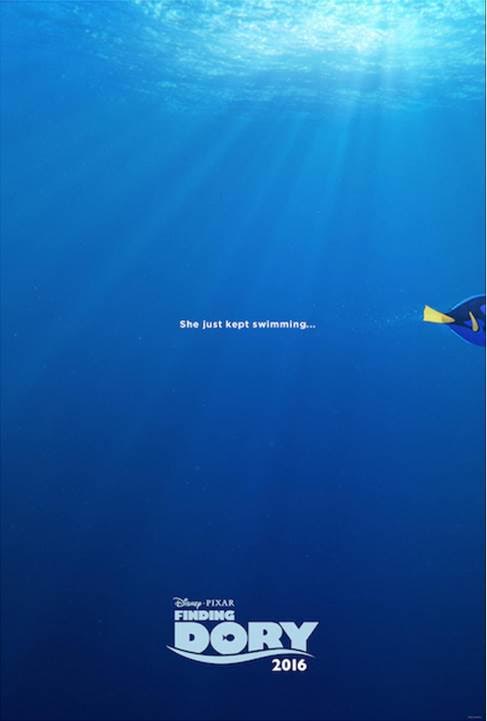 I have always loved Dory. She's one of my favorite characters. And can I just say that I am also a HUGE fan of the famous voice of Dory, Ellen!! Just love her. She is the perfect voice for Dory.
For the fans like me, you are going to love this! Dory is back in Disney PIXAR Finding Dory. Here's a sneak peek of the new Finding Dory teaser trailer!
Finding Dory Teaser Trailer
Disney•Pixar's "Finding Dory" reunites everyone's favorite forgetful blue tang, Dory, with her friends Nemo and Marlin on a search for answers about her past. What can she remember? Who are her parents? And where did she learn to speak Whale?

Directed by Andrew Stanton ("Finding Nemo," "WALL•E") and produced by Lindsey Collins (co-producer "WALL•E"), the film features the voices of Ellen DeGeneres, Albert Brooks, Ed O'Neill, Kaitlin Olson, Ty Burrell, Eugene Levy and Diane Keaton.  "Finding Dory" swims into theaters June 17, 2016.
FINDING DORY swims in theatres everywhere on June 17th, 2016!
Like FINDING DORY on Facebook: https://www.facebook.com/PixarFindingDory
Follow FINDING DORY on Twitter: https://twitter.com/FindingDory
Follow Disney/Pixar on Instagram: https://instagram.com/DisneyPixar
Follow Disney Studios on Pinterest: https://www.pinterest.com/disneystudios/
Visit Disney/Pixar on Tumblr: http://disneypixar.tumblr.com
Visit the official FINDING DORY website here: https://disney.com/findingdory