This post is sponsored by Febreze ™Air Purifiers and the BlogPaws Professional Pet Blogger Network. I am being compensated for helping Febreze Air Purifiers but Blogging Mom Of 4 only shares information we feel is relevant to our readers. Febreze Air Purifiers is not responsible for the content of this article.
Now, I know I don't have to tell you other moms out there, but for those that don't know, having 4 kids can get a little messy, and I'll admit, a little stinky. I'm always looking for ways to combat that (what I affectionately refer to as) the kid stink.
Parents, you know the one I mean. The lingering smell in the kitchen after cooking dinner, the scent in the hallways after kids come home from a a long and hot soccer practice, or the kids are going thru puberty so they must spray perfume/cologne on everything, just to name a few.
And let's not forget our furry kids. We also have 2 dogs and a cat. Oh my my… it's always been a chore keeping our house from being stinky. Can you all relate?
So when I was given the chance to test out the Febreze Air Purifier I jumped at the chance because I knew that was exactly what we needed! This small (yet powerful) device is a life savor when it comes to household odor reduction. It quickly eliminates odors and releases soft scents to freshen the air inside your home. The home air purifier is good for spaces of most sizes and it can easily fit on a table or counter!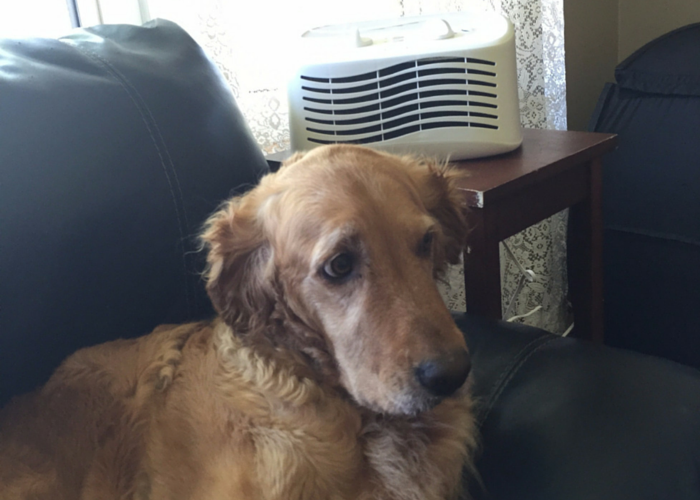 That's right! So not only will the Febreze Air Purifier eliminate bad smells in your home, it will make it smell wonderful with the smell from Febreze that everyone knows and loves! And because of it's compact size it is perfect for any room in your home.
The first time I plugged it in, our youngest daughter said, "Oooh, that smells nice!" 😉