Thank you to Organic Aromas for providing the Raindrop Essential Oil Diffuser and for participating in the 2017 Holiday Product Guide.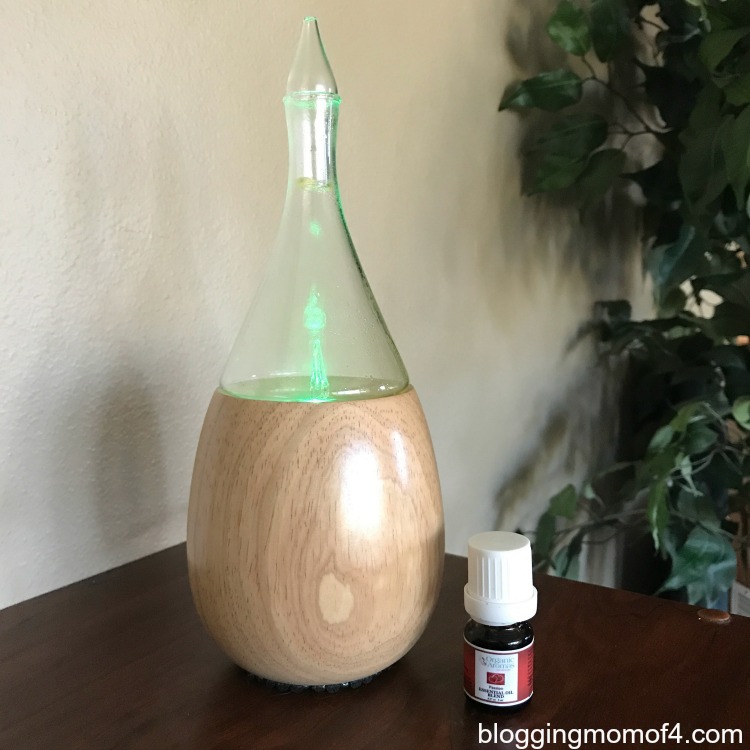 Organic Aromas offers a wide variety of both diffusers and essentials oils. There were so many options that it made my decision about which diffuser I wanted to try all that much more difficult! They have something to match your tastes and your decorating needs.
This one is the Raindrop Nebulizing Diffuser.
Raindrop Essential Oil Diffuser
NEW for 2017 and by popular demand, this diffuser is equipped with a "touch sensor" light switch enabling the user to turn the LED light on or off any time with a swipe of a finger.
The most effective diffuser of pure Essential Oils on the market. Silently nebulizes using the Bernoullis Principle. Perfect for aromatherapy, place in the spa, office, bathroom, kitchen, classroom or meeting area.
Uses No Heat or Water Maintaining the Holistic and Therapeutic Properties of Essential Oils. Has "volume" switch to precisely control how much oil you diffuse.
Low energy consumption, the unit has a Usage Cycles of 2 minutes On, and 1 minute Off. Auto Shut-off after 120 minutes. Excellent atomizing performance requires little essential oil to saturate the air quickly. Under ideal conditions can "service" a room of up to 80sqm (800+ sq ft).
The unit measures approx. 5 inches wide (13 cm) and 9 inches tall (22 cm, models vary). It features soothing LED Mood Lighting. It works on any electrical outlet (110 or 220v) and comes with the electrical plug adapter for your market (USA, UK, EU, Australia, etc).
Refined and elegant hand-made wood base and custom-blown glass diffuser makes the device a work of artistic craftsmanship. The unit is the perfect gift for any occasion.
Along with the Raindrop essential oil diffuser, I also received a full bottle of Passion Essential Oil Blend.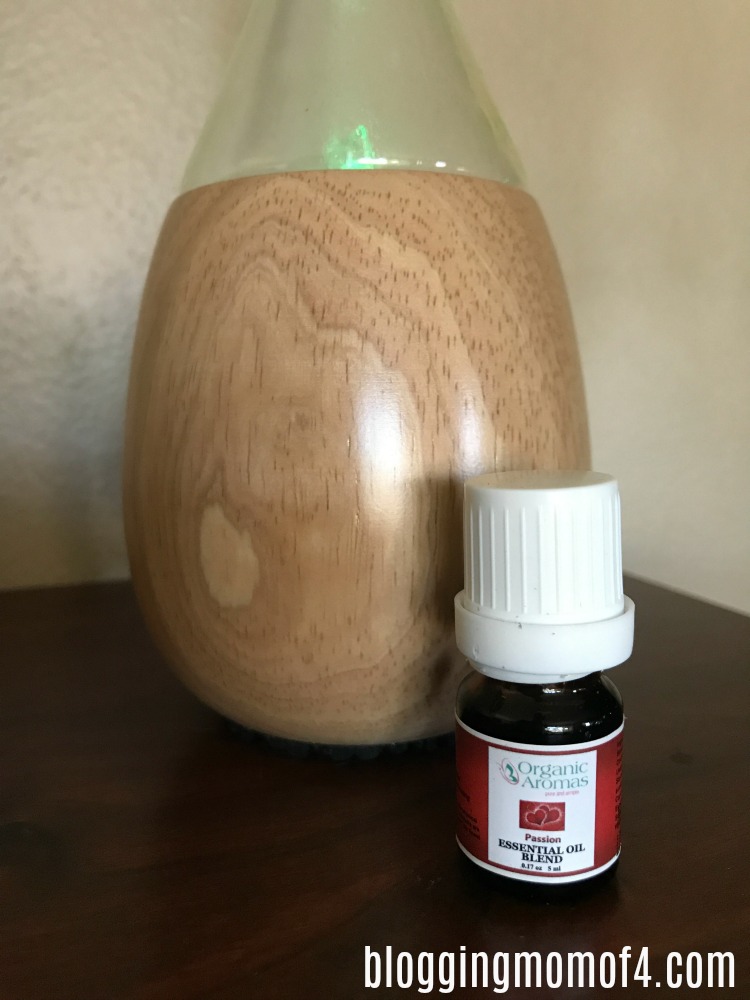 I have been using more and more essential oils and I love diffusing them throughout the day and evening. During the day, I like to use an uplifting blend to either improve mood or just provide a wonderful smelling aroma.
At night, it's wonderful to diffuse a calming blend to help us fall asleep. It's also great to diffuse something with Eucalyptus during cold season.
Having a diffuser with the nebulizing option has been awesome! I'm used to having to add water to my diffusers but no water is needed for these. Yet it puts out an incredible amount of aroma.
My Raindrop essential oil diffuser is upstairs in the living room. I had gone downstairs and could start smelling the wonderful aroma as I walked up the stairs. It was amazing that the Raindrop was able to diffuse that much scent throughout the house.
With essentials oils becoming more and more popular, Organic Aromas diffusers make great gift options. Better yet, grab one for yourself before the Holiday!
About Organic Aromas
Organic Aromas was founded on the principles of hard work, innovation and the genuine care for the well-being of our customers. We seek to offer the best, most high quality products and support them with great after-sales customer service. We practice strict quality control methods and employ comprehensive testing procedures on both our diffusers and our essential oils in order to guarantee a top-notch customer experience.