Disclosure: I was sent these easy Kids Crafts from Create Abilities For Kids for review purposes only. All opinions are my own.
Easy Kids Crafts
My kids LOVE doing crafts but frankly I am not the most creative person in the world. AND I'm busy…we're all busy right? How awesome would it be if there was easy kids crafts that just got shipped to your door every month? It would have everything in it that your child would need for that craft…the idea, the supplies and even the paper to protect your art area!
Now wouldn't that be amazing!? Well it's something that you can have with Create Abilities for Kids. Yep, it's real!
Create Abilities For Kids
Create Abilities For Kids offers a unique solution to busy parents looking for ways to maximize quality time with their young children. Our art activity kits include everything you need. You won't need to shop around for anything! The art activity is generally geared toward a holiday or time of year, and the kit comes with talking points that will further enhance your child's learning and development. In addition, we have it all arranged so that cleanup is easy too.
The kits are designed for ages 3-5. My kids are a little older but still loved it. My girls are 8 and 11 and still enjoyed doing the two crafts that we were sent. I think no matter the age, kids just like to be creative, they like to play and they like to experiment. So if you have older kids, don't count this out right away.
For a busy mom who maybe isn't all that creative, this is perfect! I love that it's all together, it comes every month so I don't have to think about it and clean up is a cinch!! Roll it all up, throw it in the garbage. Best part is you now have beautiful artwork to hang up on your walls. 🙂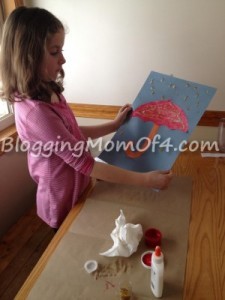 Topic: Easy Kids Crafts