Quick and Easy Breakfast
No time for breakfast? Well you'll have time for this yummy, quick and easy breakfast! I'm not a morning person. In fact, my kids love going to Grandma's and having sleepovers because she always makes them a huge breakfast. Usually pancakes with powdered sugar. Carbs and sugar! Glad they're at Grandma's to burn off all of that energy. 😉
This quick and easy breakfast has plenty of protein to get you and your kids started off right!
I found the original Mug Scrambler Recipe and decided to try it myself. I haven't had time to get to the grocery store so I improvised. I like making eggs in the microwave for a quick breakfast so this was just as easy. Instead of a mug, I like using a small tupperware bowl. It's a lot nicer for the kids to use too. My kids like making eggs in the microwave too so having something that is easy and safe for them to use is great.
Here's what I used for my quick and easy breakfast: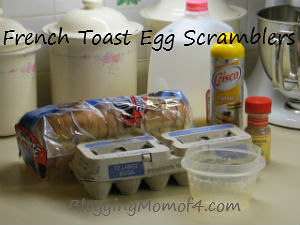 French Toast Egg Scramblers
Ingredients
no-stick cooking spray

2

eggs

dab of milk

1

slice

bread

torn into small pieces

cinnamon/sugar

syrup
Instructions
Spray the inside of your Tupperware bowl with cooking spray.

Add eggs and dab of milk. Beat with fork to mix.

Add pieces of bread, sprinkle with cinnamon/sugar and mix well to coat.

Microwave on high for 1 minute. Stir, microwave for an additional 30 seconds or until eggs are set.

Top with syrup and serve.
(picture of pre-microwave)
Notes:
You can also add Brown 'n Serve sausage. If you do, then cut up the sausage, place it in bowl first, microwave for 30 seconds, blot dry with paper towel. Then add eggs and continue with the rest of the steps.
Another option is to use cinnamon swirl bread vs. plain bread and sprinkling cinnamon/sugar.
You can also use egg beaters. There are a lot of different varieties with this one. .
Enjoy!