Disclosure: I received the below products from Udderly Smooth to help with my dry skin. Products are for review purposes only. All opinions are my own. #udderlysmooth #2014HGG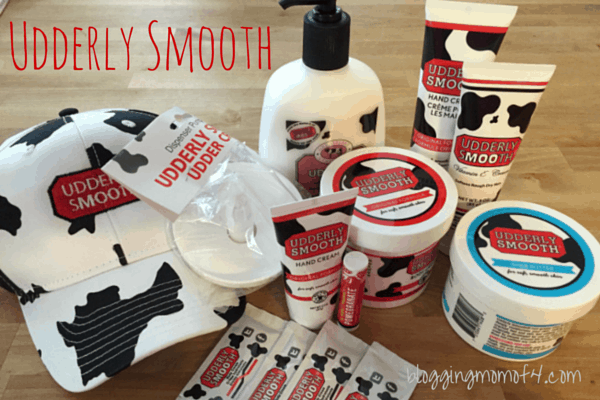 Udderly Smooth is part of our Holiday Gift Guide this year. I was so happy to get all of these wonderful products to help with my dry skin.
Winter is on it's way as well as dry skin! I have a few patches that can cause me issues all year round but my skin screams for moisture even more so in the winter.
Do you have problems with dry skin?
Udderly Smooth is Family owned and operated. Redex Industries makes Udderly Smooth products in Salem Ohio.
Original Udderly Smooth® Udder Cream is a greaseless, stainless water-based moisturizer with a light fresh fragrance.

Originally developed for use on dairy cows, Udderly Smooth® Udder Cream. is used by many people for their dry and chapped skin.

Use Udderly Smooth® as an everyday multipurpose moisturizing lotion. Udderly Smooth®. contains rich moisturizing ingredients that perform to soften dry, chapped skin.
These are the wonderful products in the above picture:
Udderly Smooth Body Cream, 12 oz jar
Udderly Smooth Hand Cream, 4 oz tube
Udderly Smooth Hand Cream 2 oz tube
Udderly Smooth Shea Butter Foot Cream, 8 oz jar
Udderly Smooth lotion, 16 fl oz bottle
Udderly Smooth hat
Lip balm
My kids were excited about the 'cow' hat. 😉 While that is super cute, I was more excited about all of the lotions and lip balm.
I remember my mom and dad having udder cream when I was a kid. It was the actual udder cream used for cows. Albeit a little weird, hey if it works, I'm all for it. 😉
I've been trying out the different Udderly Smooth products. Let me tell you, they are amazing! The one big thing I don't like about other lotions is that greasy, slimy feel that they leave behind. The kind that no matter how much you try to rub in, you still feel greasy. Do you know what I'm talking about??
Udderly Smooth does NOT leave that greasy feel. It absorbs into your skin leaving it smooth and nourished. I just love it. I also feel good about using it on the kids as well. After our vacation, we all got a bit too much sun. Leaving our skin just a tad dry and flakey. I've been using Udderly Smooth on the kids and it's great.
You can find Udderly Smooth on the web and on Facebook. Pick up some Udderly Smooth and be prepared for the dry skin that comes with the winter season! Oh and stay tuned for a great Udderly Smooth giveaway!!
Topic: Moisturizer, dry skin, chapped skin